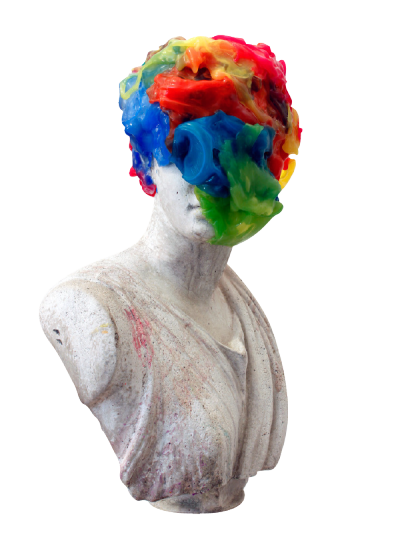 N.PRIMA
Proskuriakova Natalia

Artist
Saint-Petersburg / Russia
Honorable Member of International Academy of Contemporary Art, Russia
Member of Union of Russian Artists, Moscow, Russia
Member of Professional Union of Artists of Russian Federation
Member of Creative Artist Union /IFA/, Saint Petersburg, Russia
Member of Eurasian Art  Union, Moscow, Russia 
Member of ASSOCIATION CULTURAL FOMENAR, Spain

Her art-works are published on many sites of exhibition projects: ART WEEK, ART GEO AWARD, VOX ANIMAE, VANGUARD TODAY, ARTEXPO, EOS.
They are printed in the catalogues: IFA, New face in the ART, ART Culture, ART Portrait Club, ART in Design, ARTEXPO 2018, EOS, CORRISPONDENZE
•
N.Prima`s favorite techniques are experimental graphic, vanguard and abstract style. The main idea, which she follows in her works is the big interest and love to different cultures and people, living on our Planet. Natalia attracts her viewers with a fresh concept of beauty of the nature, emotional rhythm of a megapolis and human relations. Sometimes it's simply a fantasy or a dream, which she represents in her own art style. Over time, the style changed and without any doubts improved – it finally became her business card, increasing her auditory in many countries in the world.
•
 She was participant in more than 80 expositions and exhibitions/contests during 2013-2020, in different museums, libraries, galleries and exhibition halls in Russia /St. Petersburg, Moscow, Vladimir/, France /Paris, Miramas, Senlis/, Cyprus /Limassol, Nicosia/, China /Beijing/, Belarus /Minsk/, Denmark /Copenhagen/, Crimea /Sevastopol/, Slovenia /Ljubljana/, Hungary /Budapest/, Turkey /Ankara /, Italy /Milan, Rome, Sardinia, Vittorio, Verona, Lecce, Caltagirone/, Sweden /Stockholm/, Israel /Tel Aviv/, Greece /Thessaloniki/, India /New Delhi/, Austria /Vienna/, Czech Republic /Jihlava, Prague/, Spain /Barcelona, Costa Bravo/, USA /American Art Awards/, Online exhibitions: Colors of Humanity Art Gallery, Light Space & Time Online Art Gallery, Camelback Gallery, Gray Cube Gallery, Fusion Art Gallery, Gallery Ring 
•
The same period, Natalia was participant in international Art festivals in Saint Petersburg – where she was awarded as "Lauriat I levels" and "Lauriat of Grand Prix" with a gold medal.
During 2016-2018 Natalia held five solo exhibitions in Russia – "Planet of my dream" 2016, "Heroes of our childhood" 2017, "On the other parallel" 2017,  "South-West view" 2018, and "Japan in naïve style" 2016 – the last exhibition was held within XVI City Festival Japanese Spring in St. Petersburg and was attended personally by the Japanese attaché.
 Art Duet  – two exhibitions in Sweden – "Art and Design" and "Globetrotter"
•
 2016 – She was part of an international art project "Japan" with a Swedish designer M. Henriksson and glass masters Mikael Erlandsson from the company "Ulven". From her painting "Japan. Tempo" a glass sculpture was created. 
2016 – She was also part of the art project "Red Hat" with the Italian glass masters Walter and Mario Furlan from Murano. From her painting "Red Hat", many different glass sculptures were made.
•

 2019 – 2020 – Winner in art contests "American Art Awards"

2019 – "American Art Awards" and  the magazine "HIGHLIGHT HOLLYWOOD"
highlighted N.Prima`s work in two different nomination:
"The 29 Best Contemporary Art Works by Russian Artist" and  "The Best Naïve Artist"
http://www.americanartawards.com/press-on-2019-artists/
2020 –  "American Art Awards" introduce N.Prima`s name among the artists, nominated as the best artists from Russian Federation
https://thombierd.medium.com/the-80-best-contemporary-artworks-from-russia-part-4-of-8-american-art-awards-winners-c3ab9397a1f1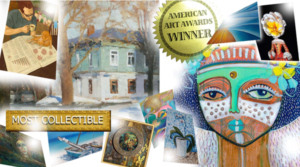 •

2020  – Art Duet: Henriksson and  N.Prima was awarded with Bronze Medal in the Art Contest "ART EXELENCE AWARD",
organized by The International Academy of Contemporary Art. Moscow, Russia
http://www.infinityofart.com/exhibitions-2021/
2021  – N.Prima was awarded with Bronze Medal in the Art Contest "ART EXELENCE AWARD",
organized by The International Academy of Contemporary Art. Moscow, Russia
https://artexawards.com/?page_id=1522
•

2021 – Artist  Proskuriakova Natalia /N.Prima/ was awarded – Laureate of Art with Diploma of Lubov Popova,
For contribution to the Art of Russian Federation.
Nomination: ""For constructivism and vanguard in art".
Art contest – "Russian Art Award". Moscow, Russia
https://artaward.info/index.php/ru/laureaty-2021-vesna-uchastniki-finala/102-laureaty-imennykh
-nagrad-rossijskoj-premii-iskusstv-sezon-2021-vesna
•
2017- 2021 – She was member of the jury in the National Art Festival – debut for young authors "Cup of Russia on artistic creativity – Assembly of Art" which was held under the auspices of the Ministry of Culture of the Russian Federation.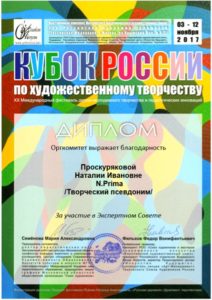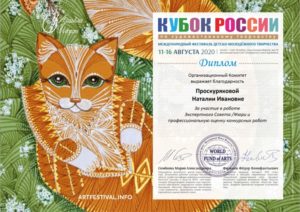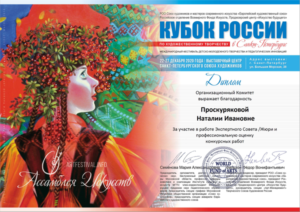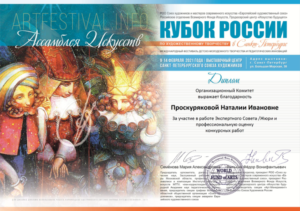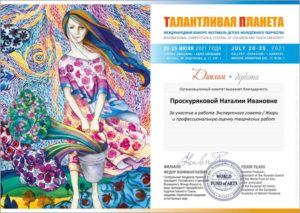 Collective exhibitions 
– In different museums, libraries and galleries in St. Petersburg and Moscow. More than 20 expositions during 2013-2017
– Winner in the art competition, which was organized by City administration of St. Petersburg and connected to the – 70 years celebration of the Victory of the Second World War. Her picture "Red sails" was selected from 700 paintings from different artists and exposed in the Ethnographic Museum in the Marble Hall. May 2015
– Participant in collective exhibition in Hall Union of Artist. Saint-Petersburg. February 2016
– Participant in Duet exhibition with artist and designer M. Henriksson "Japan". Saint-Petersburg. May 2016
– Participant in collective exhibition in the Hall Union of Artist. Saint-Petersburg. March 2017
– Participant in collective exhibition in Museum of Naive Art. Moscow Russia February 2017
– Participant in collective exhibition in the Hall of IFA. Saint-Petersburg. "Ecology". May 2017
– Participant in collective exhibition in the Hall of IFA. Saint-Petersburg. "Painting of Year". December 2017 – January 2018
– Participant in collective exhibition in the Hall of IFA. Saint-Petersburg. June 2018
– Participant in collective exhibition in the Hall of IFA. Saint-Petersburg. "Painting of Year".  December 2018 – January 2019
– Participant in contest of Russian Federation "Heroes of the Great Victory". Moscow. May 2019
– Participant in collective exhibition in the Hall of IFA. Saint-Petersburg. "Theater". June 2019
– Participant in collective exhibition in the Hall of IFA. Saint-Petersburg. "Painting of Year". December 2019 – January 2020
– Participant in collective exhibition in the Hall of IFA. Saint-Petersburg. "Pingvinarium". February 2020
– Participant in collective exhibition in the Hall of IFA. Saint-Petersburg. "Cosmos". June 2021
International collective exhibition

– Participant in the International "Art Exhibition-contest of Contemporary Art ". St. Petersburg, Russia 2016
– Participant in the International "Art Exhibition-contest of Contemporary Art ". Limassol, Cyprus 2016
– Participant in the International "Art Exhibition-contest of Contemporary Art ". Beijing, China 2016
– Participant in the International "Art Exhibition-contest of Contemporary Art ". Milano, Italy 2016
– Participant in the International exhibition-contest "BELARUS ART WEEK ". Minsk, Belarus 2016
– Participant in on-line gallery "Colors of Humanity" The exhibition "Animals". USA 2016
– Participant in the International exhibition-contest "ART WEEK in Denmark ". Copenhagen, Denmark 2016
– Participant in the International exhibition "Art Portrait Club. International Festival". Moscow. Russia 2016
– Participant in the International "Art Exhibition-contest of Contemporary Art "Russian Art Week". Moscow. Russia 2016
– Participant in the International "Art Exhibition-contest of Contemporary Art "Crimian Art Week". Crimea. Russia 2016
– Participant in the International "Art Exhibition-contest "Saint-Petersburg Assembly". S.Petersburg. Russia 2016
– Participant in the International "Art Exhibition-contest of Contemporary Art ". Limassol, Cyprus 2016
– Participant in on-line gallery "Colors of Humanity". The exhibition "Open". USA 2017
– Participant in the International "Art Exhibition-contest "Vivat-talent ". Petersburg, Russia 2017
– Participant in the international exhibition-contest "Art Geo Award". Moscow, Russia 2017
– Participant in the International "Art Exhibition-contest of Contemporary Art ". Ankara, Turkey 2017
– Participant in the International "Art Exhibition-contest of Contemporary Art ". Beijing, China 2017
– Participant in the international exhibition-contest "Art Geo Award". Beijing, China 2017
– Participant in the international exhibition-project "VOX ANIMAE". Milano, Italy 2017
– Participant in the International exhibition "Art Biennale". Vladimir. Russia 2017
– Participant in international art festival "Vivat Petersburg". Saint-Petersburg. Russia 2017
– Participant in the International "Art Exhibition-contest of Contemporary Art ". Ljubljana. Slovenia 2017
– Participant on-line international exhibition on art platform "IT`S LIQUID". Venice, Italy 2017
– Participant in the international art project "ARTINDESIGN". Saint-Petersburg, Russia 2017
– Participant in the International "Art Exhibition-contest of Contemporary Art ". St. Petersburg, Russia 2017
– Participant in the international exhibition-contest "Art Geo Award". Moscow, Russia 2017
– Participant in the international exhibition-contest "My Italy". Moscow, Russia 2017
– Participant in the international exhibition-contest "Art Water". Moscow, Russia 2017
– Participant in the international exhibition-contest "Art Poetry". Moscow, Russia 2017
– Participant in the international exhibitions-contest "Art Geo Award". Sardinia, Italy 2017
– Participant in the international exhibition-contest "Plain Air Assembly". Moscow, Russia 2017
– Participant in the international exhibition-contest for art works in small format "A single Grain of Rice". Paris, France 2017-2018
– Participant in the international exhibition-contest "Vanguard Today". Moscow, Russia 2018
– Participant in the international exhibition-contest "Zoo Arts". Moscow, Russia 2018
– Participant in on-line gallery "Colors of Humanity". The exhibition "Red". USA 2017
– Participant in the international art exhibition "EOS". Sicily, Italy 2018
– Participant in the international exhibition-contest "Festival of the Abstract Arts". Moscow, Russia 2018
– Participant in the international exhibition-contest "Vanguard Today". Moscow, Russia 2018
– Participant in the international exhibition-contest "Art Poetry". Moscow, Russia 2018
– Participant in the international art exhibition "ArtExpo". Rome, Italy 2018
– Participant in the international exhibition-contest "Russian Awards". Moscow, Russia 2018
– Participant in Duet exhibition with artist and designer M. Henriksson "ART and DESIGN". Stockholm, Sweden 2018
– Participant in the international art exhibition "Fomenar". Verona, Italy 2018
– Participant in the International art exhibition "Art Geo Award ". Nicosia, Cyprus 2018
– Participant in the International "Art Exhibition-contest of Contemporary Art ". Rome, Italy 2018
– Participant in the International "Art Exhibition-contest of Contemporary Art ". Beijing, China 2018
– Participant in the International "Art Exhibition-contest of Contemporary Art ". Budapest, Hungary 2018
– Participant in Duet exhibition with artist and designer M. Henriksson "Globetrotter". Stockholm, Sweden 2018
– Participant in the art exhibition "Zoo Arts Festival". Saint-Petersburg, Russia 2018
– Participant in the international exhibition-contest "Russian Awards". Moscow, Russia 2018
– Participant in the International Art Exhibition "CORRISPONDENZE". Lecce, Italy 2018
– Participant in on-line gallery "Camelback gallery". The exhibition ""PET PORTRAITS". USA 2018
– Participant in the international exhibition-contest "Talent of Russian". Moscow, Russia 2018
– Participant in the art exhibition "Abstraction". Saint-Petersburg, Russia 2018
– Participant in the International "Art Exhibition-contest of Contemporary Art ". Tel Aviv, Israel 2019
– Participant in the International "Art Exhibition-contest of Contemporary Art ". Thessaloniki. Greece 2019
– Participant in the international exhibition-contest "Art Geo Award". Moscow, Russia 2019
– Participant in the International "Art Exhibition-contest of Contemporary Art ". Miramas, France 2019
– Participant in the International Art Exhibition "FESTIVAL de SENLIS". Senlis, France 2019
– Participant in the international exhibition-contest "Art Poetry". Moscow, Russia 2019
– Participant in the international art exhibition "ArtExpo Summer". Rome, Italy 2019
– Participant in the International "Art Poetry". Tel Aviv, Israel 2019
– Participant in the International "Art Exhibition-contest Art Week". Saint-Petersburg, Russia 2019
– Participant in the international art exhibition "Art in Rome". Rome, Italy 2019
– Participant in the international art exhibition "SOGNO VENEZIANO". Venice, Italy 2019
– Participant in the International Art Exhibition-contest "Art Week in China ". Beijing, China 2019
– Participant in the International Art Contest "American Art Awards ". USA 2019
– Participant in the international selection of art prize of the Luxembourg Art Prize. Luxembourg 2019
– Participant in the international exhibition-contest "Symbolic Art Week in India". New Delhi, India 2019
– Participant in on-line gallery "Colors of Humanity", the exhibition "Animals". USA 2019
– Participant in the international exhibition-contest "Abstractum". Caltagirone, Italy 2019
– Participant in the international exhibition "Art Christmas in Rome". Rome, Italy 2019
– Participant in international art-contest "Holiday Card". On-line gallery "Camelback Gallery". USA 2019-2020
– Participant in the international art-contest "All Women". On-line gallery "Light Space & Time Art Gallery". USA 2019-2020
– Participant in the international exhibition-contest "Vanguard Today". Saint-Petersburg, Russia 2019-2020
– Participant in the international exhibition-contest "Art Christmas". Saint-Petersburg, Russia 2019-2020
– Participant in on-line gallery "Colors of Humanity", the exhibition "RED". USA 2020
– Participant in the International Art Exhibition-contest "Art Week in Austria ". Vienna, Austria 2020
– Participant in the International Art Exhibition-contest "Art Week in Czech ". Jihlava/Prague, Czech Republic 2020
– Participant in the international art-contest "Figurative". On-line gallery "Light Space & Time Art Gallery". USA 2020
– Participant in the international art-contest "All Planet Earth". On-line gallery "Contemporary Art Gallery". USA 2020
– Participant in on-line gallery "Colors of Humanity", the exhibition "YELLOW". USA 2020
– Participant in the international art-contest "SeaScapes". On-line gallery "Light Space & Time Art Gallery". USA 2020
– Participant in the international exhibition-contest "Art Week". Saint-Petersburg, Russia 2020
– Participant in the international exhibition "Zen Art". Moscow, Russia 2020
– Participant in the international art-contest "All Abstraction ". On-line gallery "Contemporary Art Gallery". USA 2020
– Participant in the international contest ""North – Country without borders". Saint-Petersburg, Sweden/Russia 2020
– Participant in the international art-contest "10th Anniversary". On-line gallery "Light Space & Time Art Gallery". USA 2020
– Participant in the international Art-contest and exhibition "Russian Victories". Saint-Petersburg, Russia 2020
– Participant in the international exhibition-contest "Art Week". Saint-Petersburg, Russia 2020
– Participant in the international exhibition-contest "ZOO Art". Saint-Petersburg, Russia 2020
– Participant in the international art-contest "City". On-line gallery "Grey Cube Gallery". Serbia 2020
– Participant in the international art-contest "Land Water Sky". On-line gallery "Gallery Ring". USA 2020
– Participant in the International Art Contest "American Art Awards ". USA 2020
– Participant in the international exhibition-contest "Art Week". Barcelona. Spain 2020
– Participant in the international art-contest "Waterscapes". On-line gallery "Gallery Fusion-Art". USA 2020
– Participant in the international art-contest "City". On-line gallery "Gallery Ring" USA 2020
– Participant in the international exhibition-contest "Art Poetry". Moscow, Russia 2020
– Participant in the international art-contest "Face". On-line gallery "Gray Cube Gallery". Serbia 2020
– Participant in the international exhibition-contest "WOMAN`S IMAGE". Moscow, Russia 2020
– Participant in the international art-contest "Open/ No Theme". On-line gallery "Contemporary Art Gallery". USA 2020
– Participant in the international art-contest "I love…". On-line gallery "Gallery Ring". USA 2020
– Participant in the international art-contest "RED". On-line gallery "HelvetArt Gallery". Switzerland 2020
– Participant in the international art-contest "Colorful Abstraction". On-line gallery "Gallery Fusion-Art." USA 2020
– Participant in the international exhibition-contest "All SEASONS". Moscow, Russia 2020
– Participant in the international exhibition-contest "ART Excellence Award". Moscow, Russia 2020
– Participant in the international exhibition-contest "Art Christmas". Saint-Petersburg, Russia 2020
– Participant in the international exhibition-contest "ART COSMOGONY". Moscow, Russia 2020
– Participant in the international exhibition-contest "Art Christmas". Moscow, Russia 2021
– Participant in the international art-contest "FLOWER-STILL LIFE". On-line gallery "Gallery Ring". USA 2021
– Participant in the international exhibition-contest "Talent of Russia". Moscow, Russia 2021
– Participant in the international exhibition-contest "Abstractum". Moscow, Russia 2021
– Participant in the international art-contest "Figurative". On-line gallery "Art Show International". USA 2021
– Participant in the international art-contest "Visions of Self". On-line gallery "Yosemite Sierra Artists". USA 2021
– Participant in the international exhibition-contest "WOMAN`S IMAGE". Saint-Petersburg, Russia 2021
– Participant in the international exhibition-contest "Flower kingdom". Saint-Petersburg, Russia 2021
– Participant in the international exhibition-contest "Russian Art Award". Moscow, Russia 2021
– Participant in the on-line international exhibition-contest "FIESTALONIA", «Dali's Mustache». Costa Bravo, Spain 2021
– Participant in the international art-contest "Alive". On-line gallery "Gallery Ring". USA 2021
– Participant in the international art-contest "Colors". On-line gallery "Gray Cube Gallery". Serbia 2021
– Participant in the international exhibition-contest "She/He". Moscow, Russia 2021
– Participant in the international exhibition-contest "ART Excellence Award". Moscow, Russia 2021
– Participant in the international exhibition-contest "COSMOS". Moscow, Russia 2021
– Participant in the international art-contest "Lines, Shapes & Objects". On-line gallery "Gallery Fusion-Art." USA 2021
– Participant in the international art-contest "Colors". On-line gallery "Art Show International". USA 2021
– Participant in the international art-contest "All Abstraction". On-line gallery "Contemporary Art Gallery". USA 2021
– Participant in the international exhibition-contest "Art Week". Saint-Petersburg, Russia 2021
– Participant in the international exhibition-contest "Art Poetry". Moscow, Russia 2021
– Participant in the international exhibition-contest "Emotions". Moscow, Russia 2021
– Participant in the international art-contest "Open". On-line gallery "Light Space & Time Art Gallery". USA 2021
– Participant in the international exhibition-contest "Abstractum". Moscow, Russia 2021
– Participant in the international exhibition-contest "Animals". Moscow, Russia 2021
– Participant in the international exhibition-contest "Silhouette Festival". Moscow, Russia 2021
– Participant in the international exhibition-contest "Contest Harmony of art". Prague, Czech Republic 2021
– Participant in the international art-contest "Modern art". On-line gallery "Gray Cube Gallery". Serbia 2021
– Participant in the international art-contest "Figurative-2". On-line gallery "Art Show International". USA 2021
– Participant in the international exhibition "Zen Art". Minsk, Belarus 2021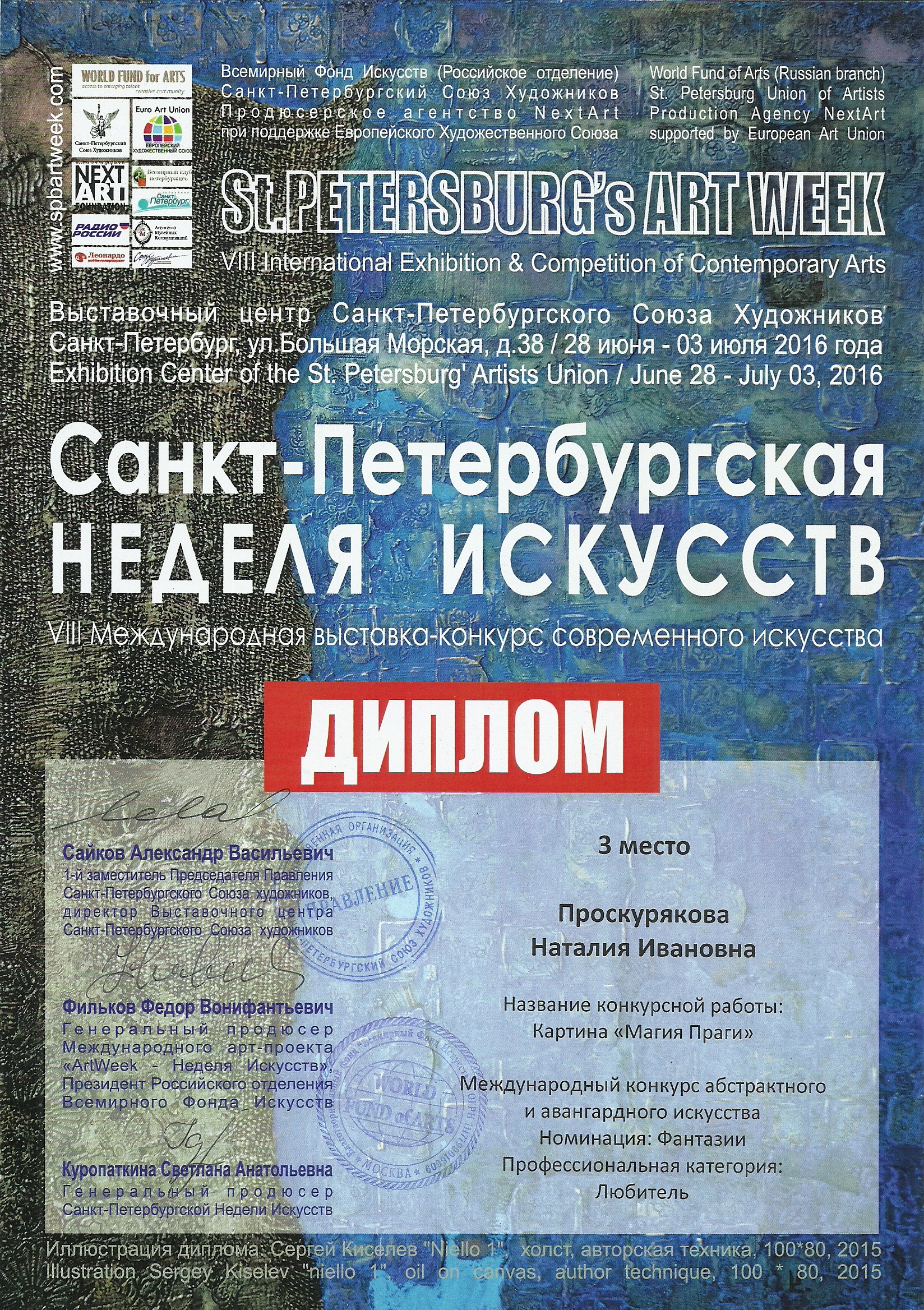 "Art Exhibition-contest
of Contemporary Art "
Winner the painting "Magic of Prague"
3 place
St. Petersburg, Russia 2016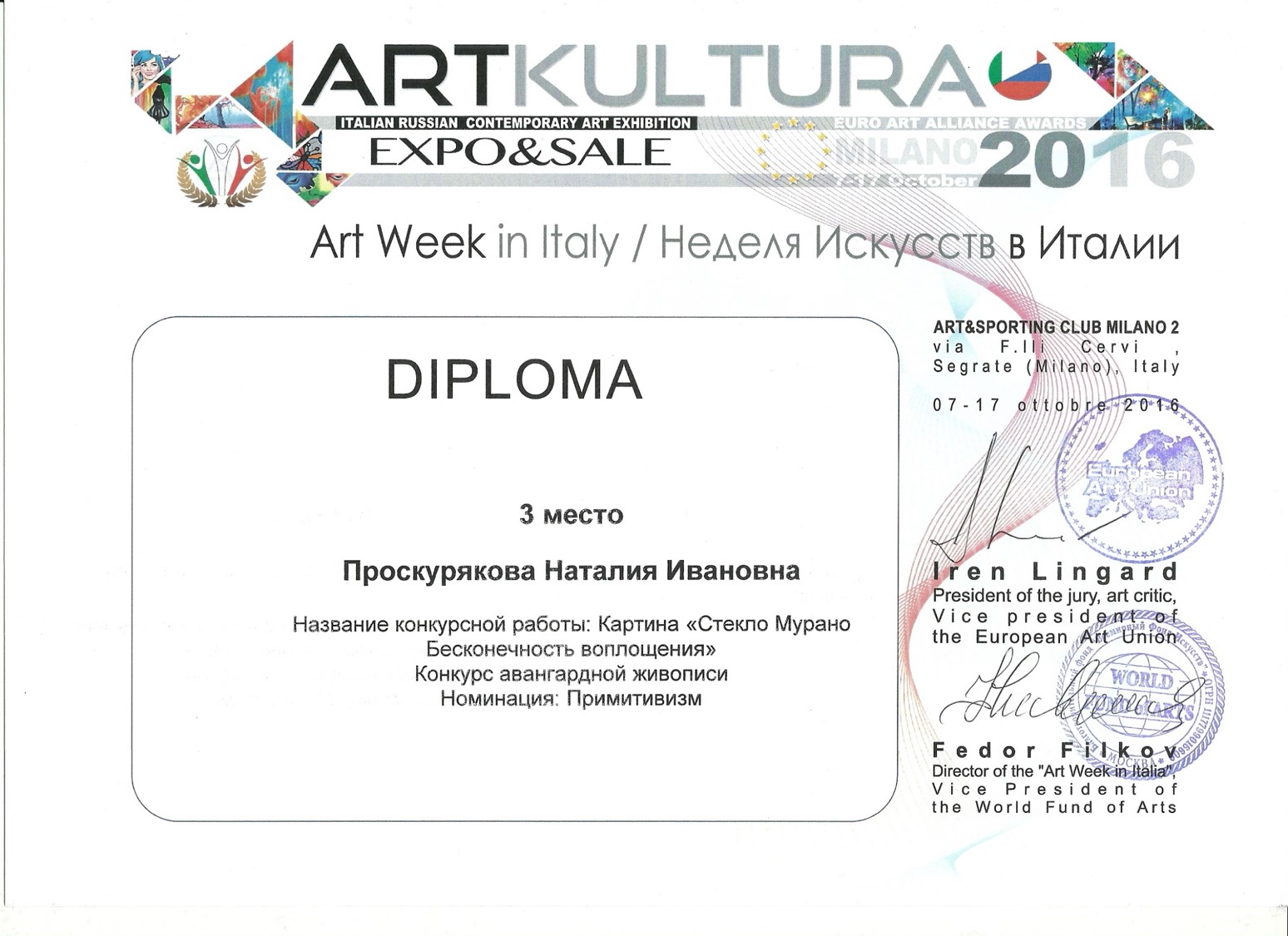 "Art Exhibition-contest
of Contemporary Art "
Winner the painting "Murano glass"
3 place
Milano, Italy 2016
Art Exhibition-contest
"BELARUS ART WEEK"
Winner the painting "Summer Garden"
1 place
Minsk, Belarus 2016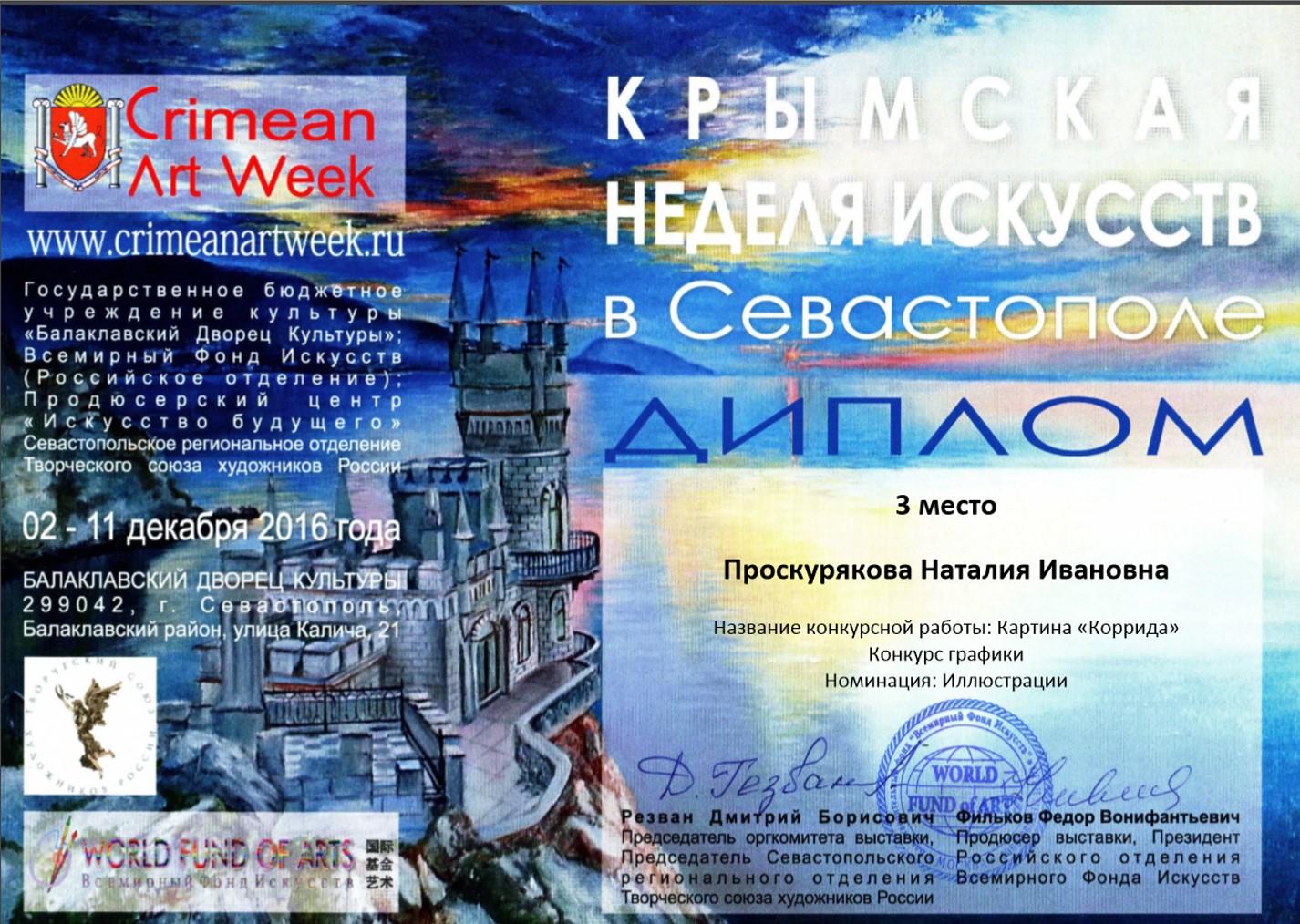 Art Exhibition-contest
"Crimian Art Week"
Winner the painting "Corrida"
3 place
Crimea. Russia 2016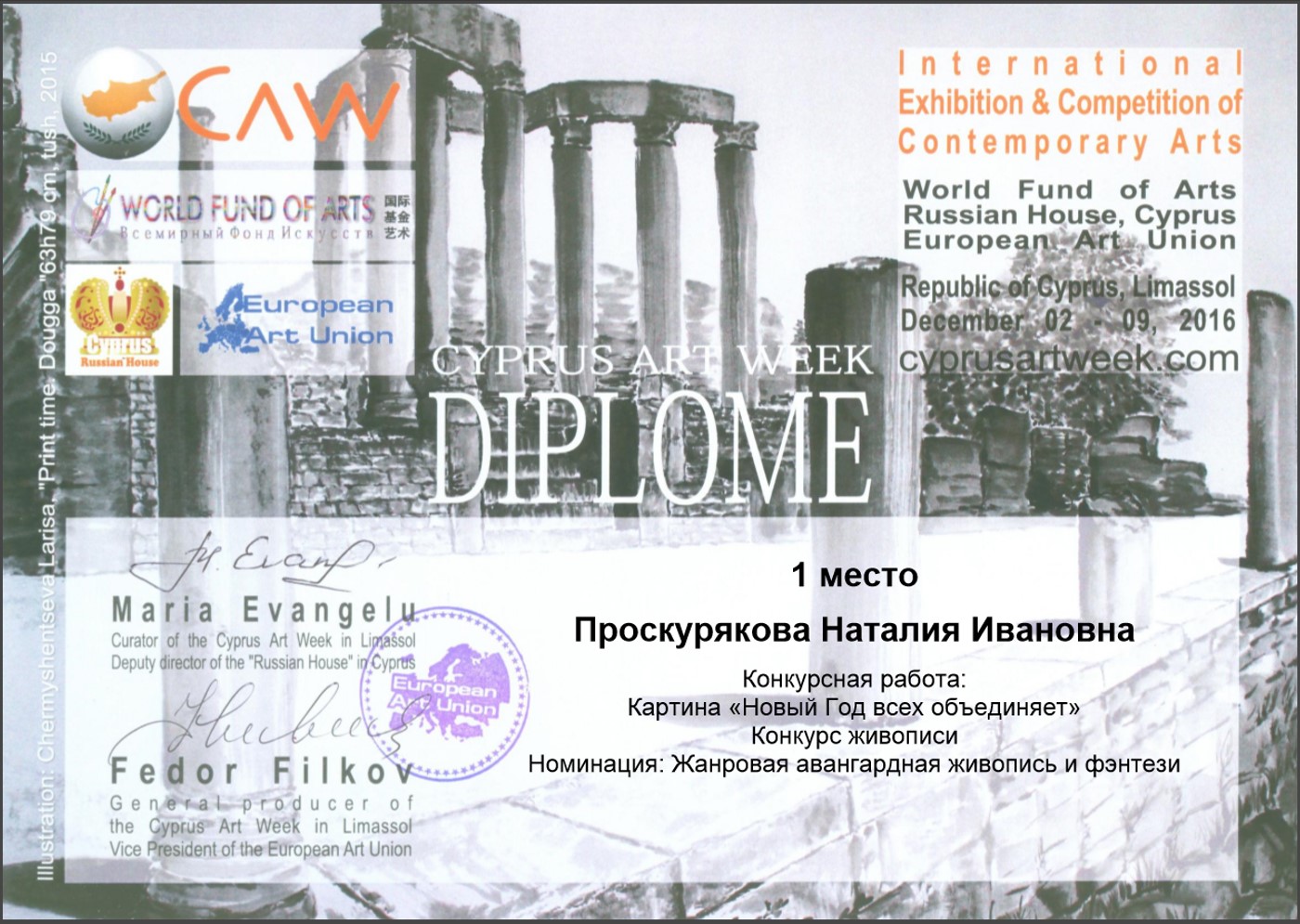 "Art Exhibition-contest
of Contemporary Art "
Winner the painting "New Year"
1 place
Limassol, Cyprus 2016
The international exhibition-contest
"Art Geo Award"
Winner the painting
"England. Sherlock Holmes and Dr. Watson"
1 place
Moscow, Russia 2017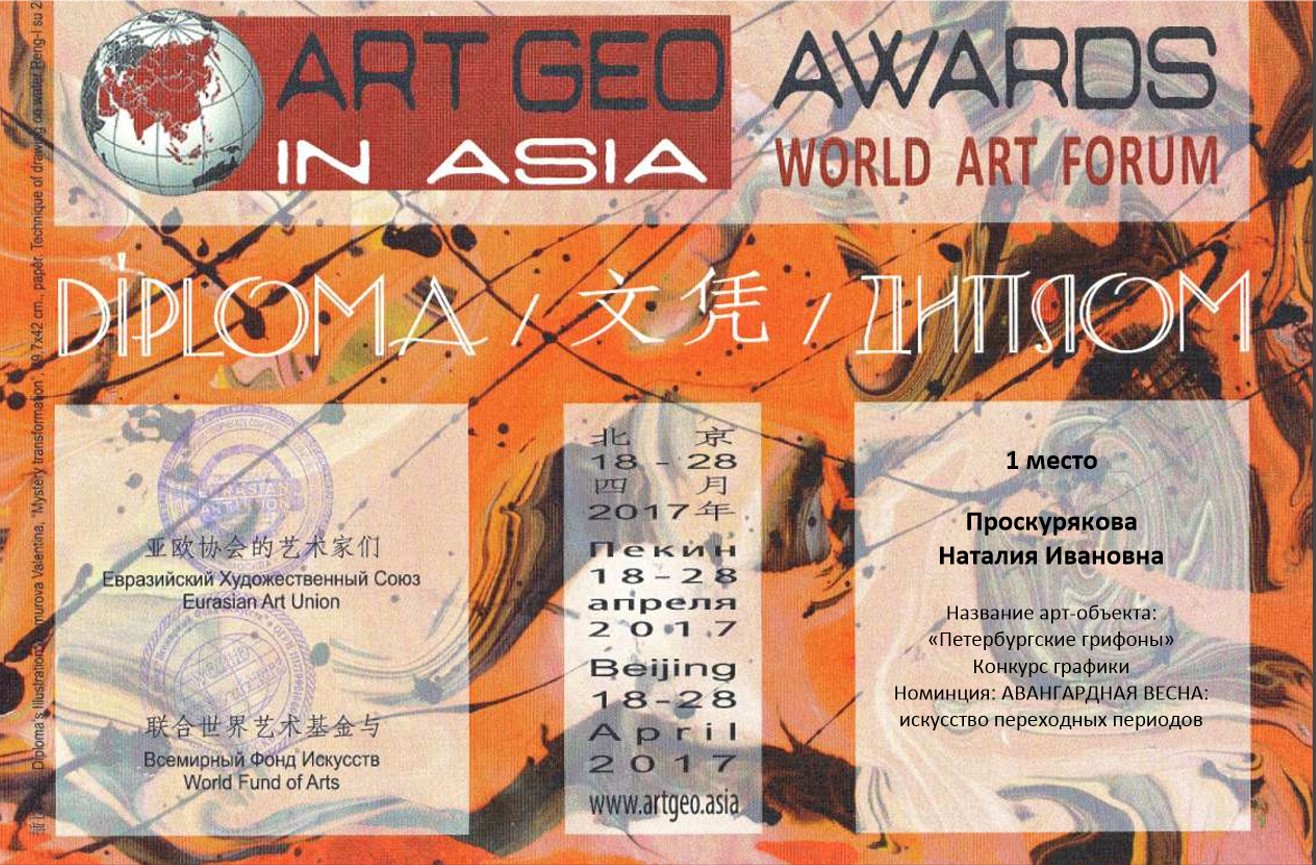 Art Exhibition-contest
"Art Geo Awards"
Winner the painting
"Griffins of Saint Petersburg"
1 place
Beijing, China 2017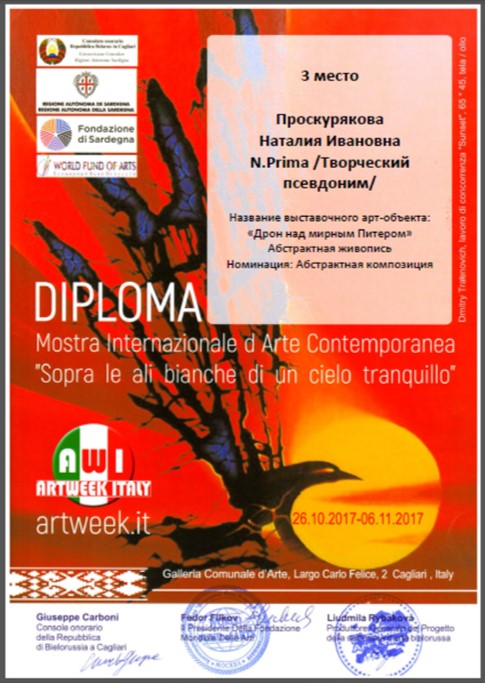 The international exhibition-contest
"Art Geo Award"
Winner the painting "Drone over peaceful Peter"
3 place
Sardinia, Italy 2017
The international exhibition-contest
"Zoo Arts"
Winner the painting "The joy of an ant"
1 place
Moscow, Russia 2018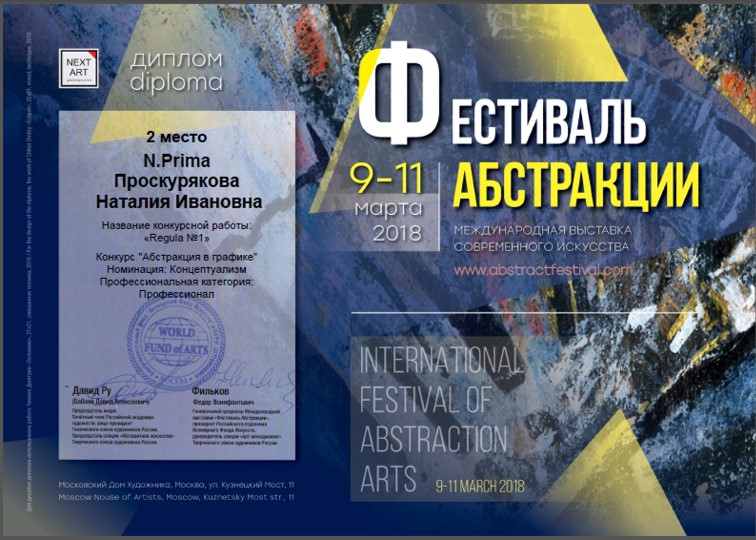 The international exhibition-contest
"Festival of the Abstract Arts"
Winner the painting «Regula №1»
2 place
Moscow, Russia 2018
The International exhibition-contest
"Art Geo Award"
Winner the painting "Theatrical Petersburg"
3 place
Nicosia, Cyprus 2018
The International Art Exhibition-contest
"CORRESPONDANCES"
Winner the art object "Black and White Rhapsody"
Award Research
Lecce, Italy 2018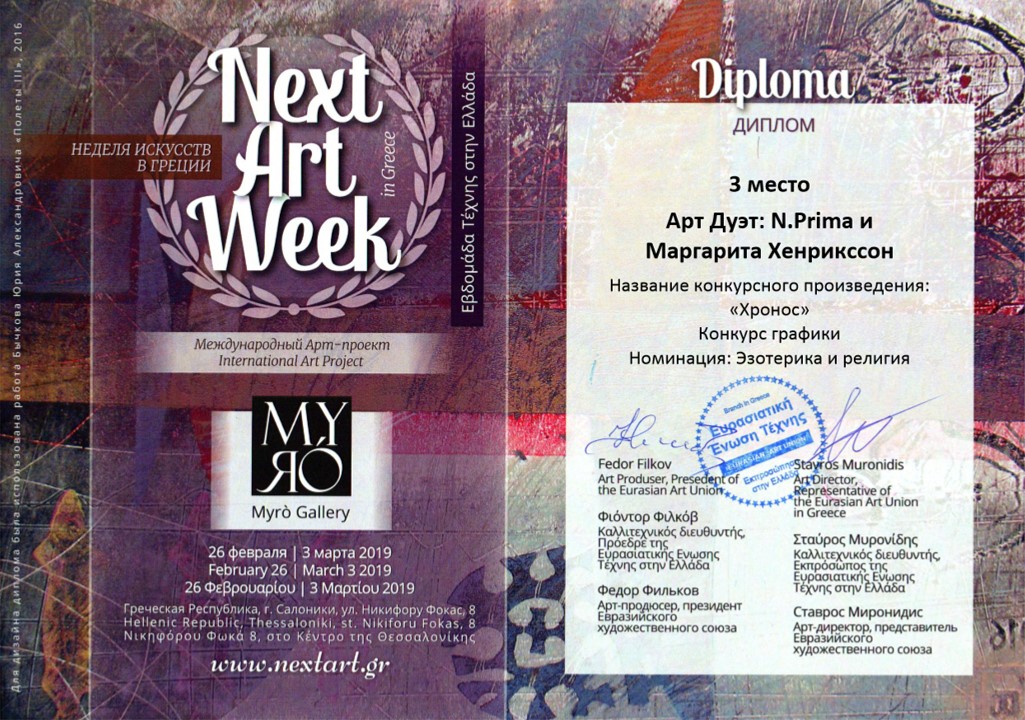 The International Art Exhibition-contest
of Contemporary Art
Art Duet: N.Prima / M. Henriksson
Winner the painting "Chronos"
3 place
Thessaloniki. Greece 2019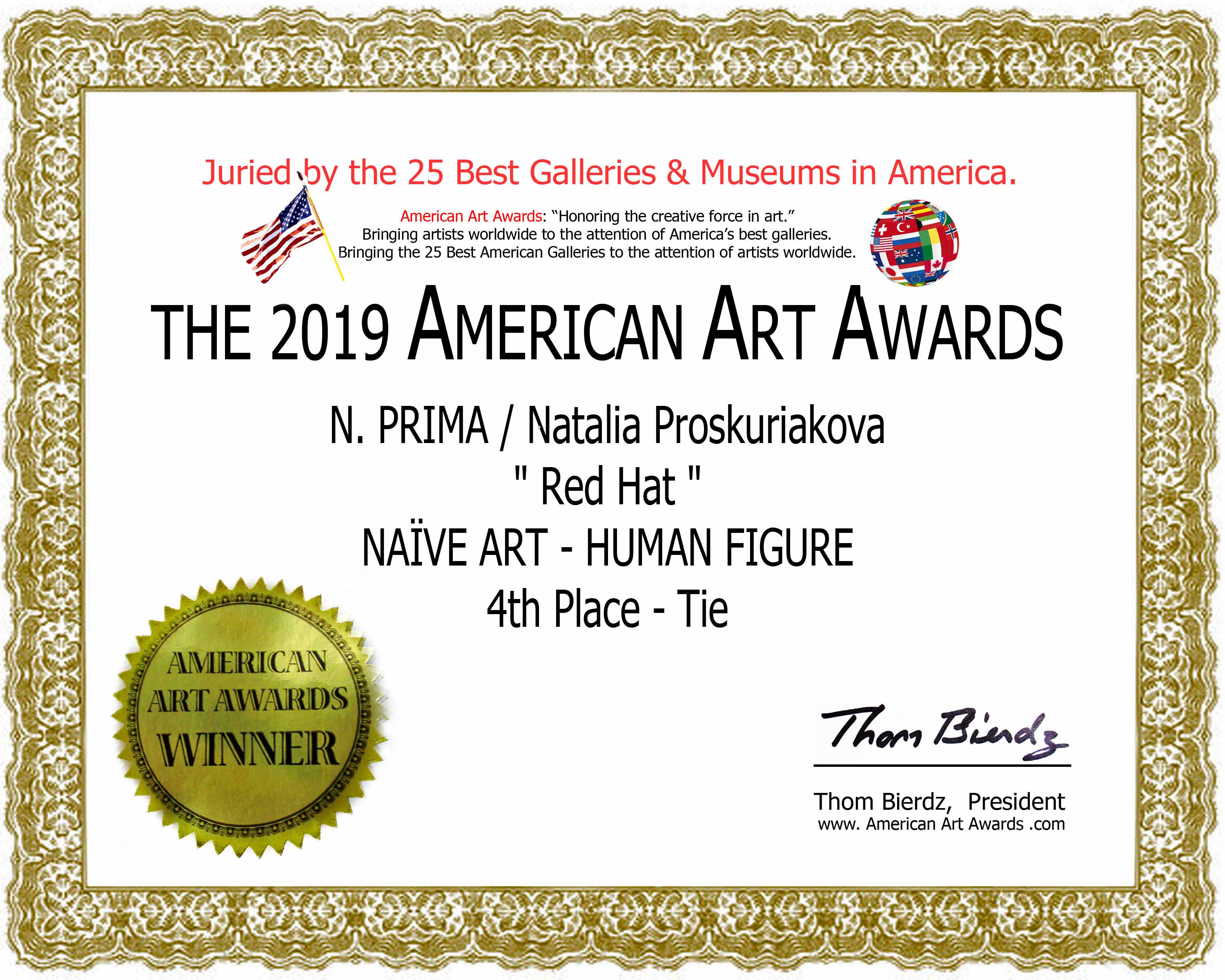 The International Art Contest
American Art Awards
N.Prima / Natalia Proskuriakova
Winner the painting "Red Hat"
4 place
USA 2019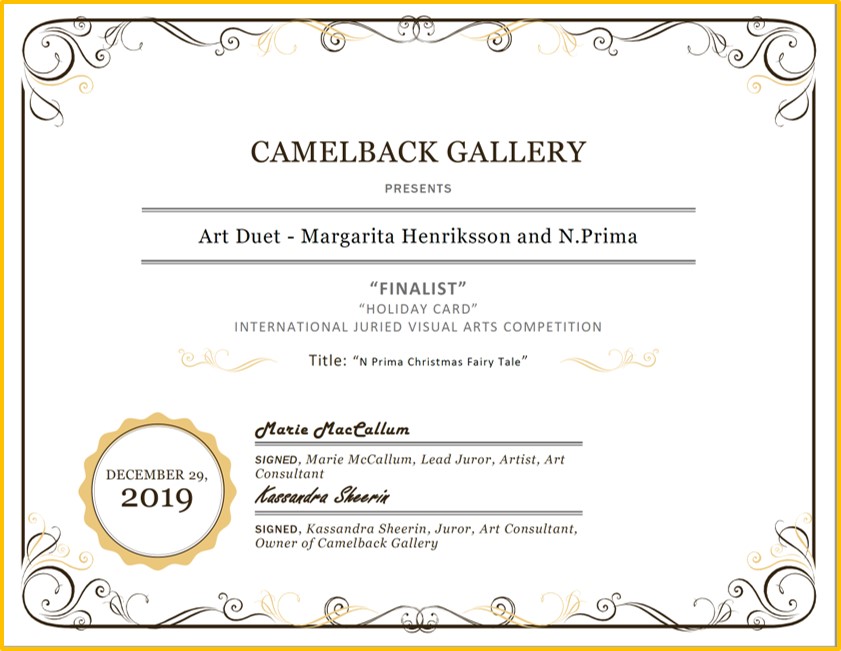 The International Art-contest
"Holiday Card"
Art Duet: M. Henriksson / N.Prima
Winner the art work "12 Month. Ballet-fairy"
Finalist
Camelback Gallery
2019
https://www.camelbackgallery.com/holidaycard2019?utm_campaign=b12a47e1-ca8d-4c84-a508-4ea479debcd3&utm_source=so&utm_medium=mail&cid=aaeef46f-e63a-4b9d-aae6-476117ac36c9
The International Art Contest
"Vanguard today"
N.Prima / Natalia Proskuriakova
Winner the painting "The end of Ecumene"
3 place
Saint-Petersburg 2019-2020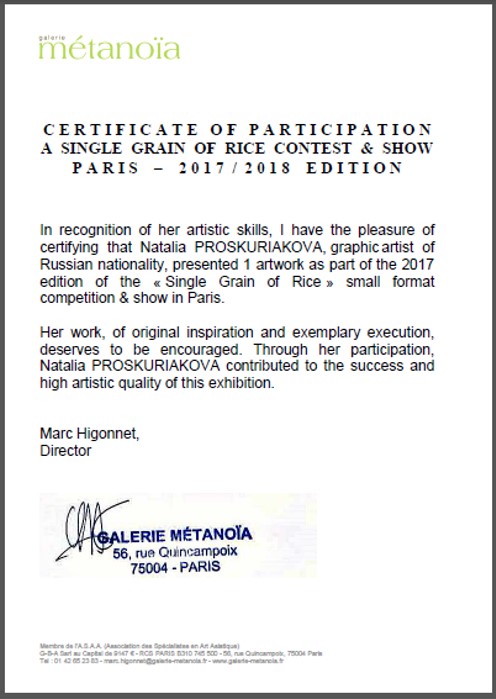 Certificate from Art Gallery "Metanoia"
Exhibition Contest "A single Grain of Rice"
N.Prima / Natalia Proskuriakova
France, Paris, 2017-2018
The International Art-contest
9th Annual "Figurative"
Art Duet: M. Henriksson / N.Prima
Winner the art work "The Little Humpbacked Horse"
Special Recognition
Light Space Time Gallery
2020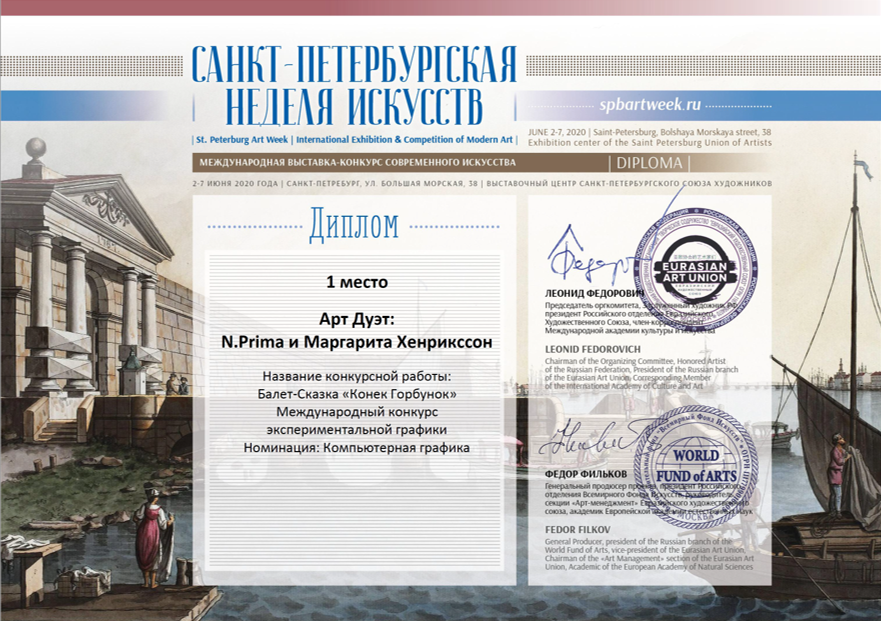 The International Art Exhibition-contest
"Art Week"
Art Duet: M. Henriksson / N.Prima
Winner the art work "The Little Humpbacked Horse"
1 Place
Saint-Petersburg, Russia
2020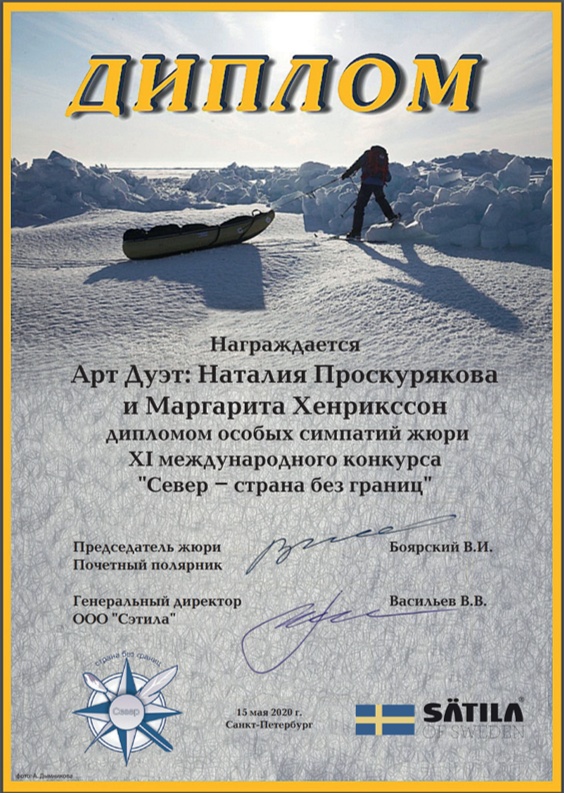 21th International contest
"North – Country without borders"
Art Duet: M. Henriksson / N.Prima
Winner the art work "Antarctic conquest"
Special Recognition from jury
Company Sätila and Russian Geography Society
2020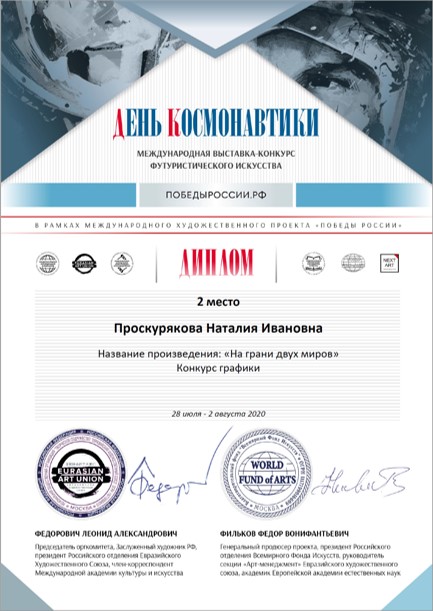 The International Art Exhibition-contest
"Russian Victories"
N.Prima
Winner the art work "Between two dimensions"
2 Place
Saint-Petersburg, Russia
2020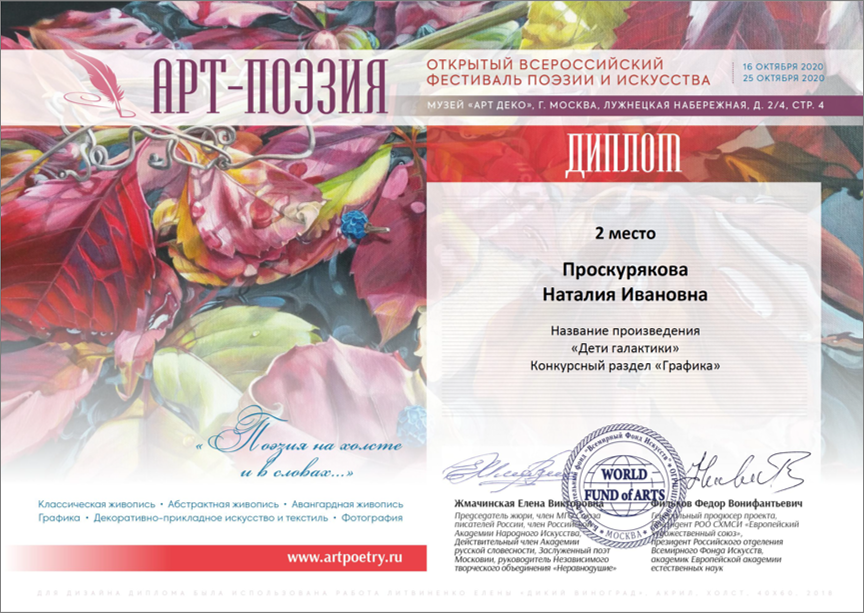 Festival-contest of Poetry and Art
N.Prima
Winner the art work "Children of the Galaxy" 
2 Place
Moscow, Russia
2020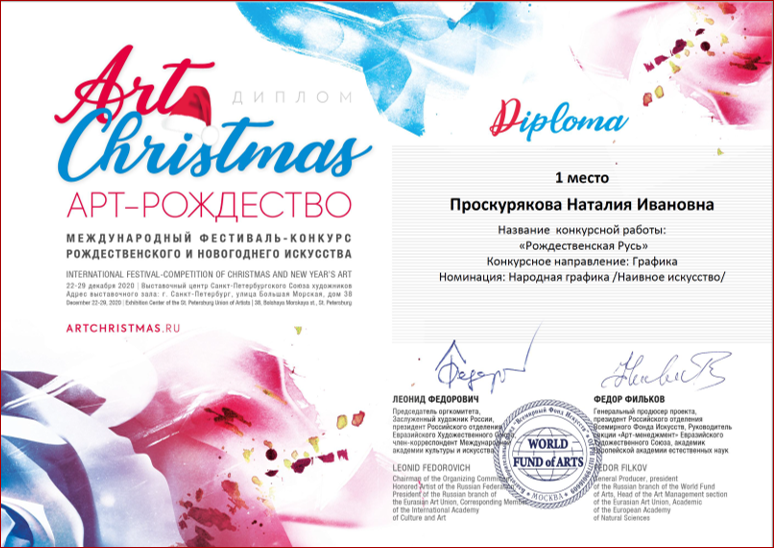 The International Art Exhibition-contest
"Art Christmas"
Artist: N.Prima
Winner the art work "Russian Christmas"
1 place
Saint-Petersburg, Russia
2020
The International Art-contest
" FLOWER-STILL LIFE"
Artist: N.Prima
Art work "Apples and watches "
Finalist
On-line Gallery Ring
2021
International exhibition-contest "WOMAN`S IMAGE"
N.Prima
Winner the art work "天宇受売命" 
3 Place
Saint-Petersburg, Russia
2021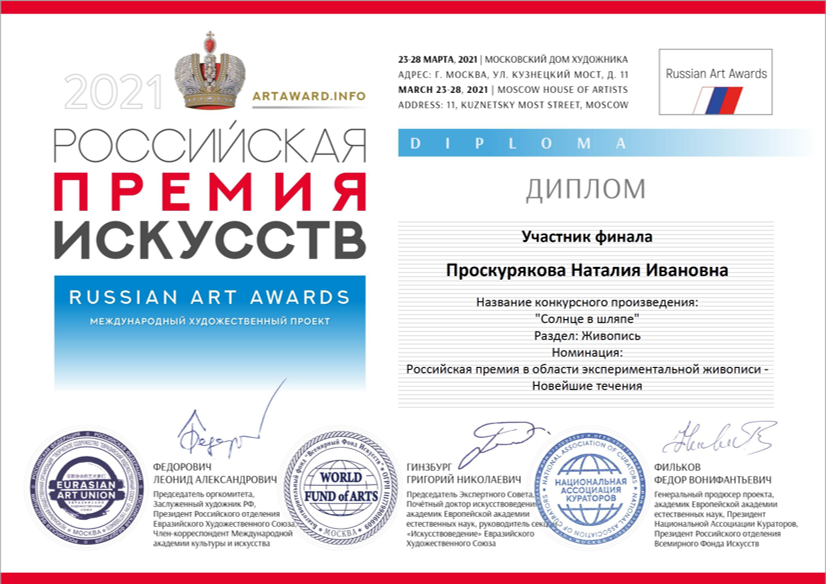 International exhibition-contest "Russian Art Award"
Natalia Proskuriakova /N.Prima/
Winner the art work "Sun in my Hat" 
Finalist
Moscow, Russia
2021
International exhibition-contest "Russian Art Award"
Natalia Proskuriakova /N.Prima/
Awarded with Diploma of Lubov Popova
For contribution to the Art of Russian Federation.
Nomination: ""For constructivism and vanguard in art"
Moscow, Russia
2021
The international exhibition-contest "ART Excellence Award"
Artist: N.Prima/Natalia Proskuriakova
Winner the art work "Sun in my Hat"
Bronze medal
Moscow, Russia
2021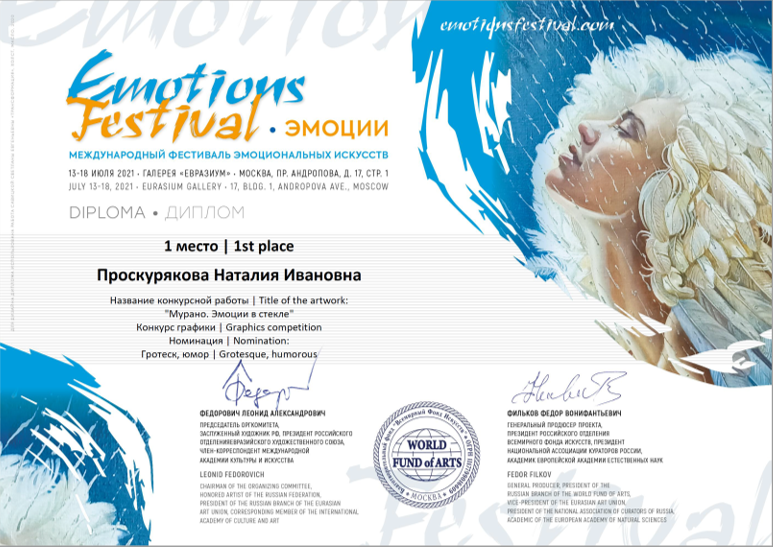 The International Art Exhibition-contest
of Contemporary Art "Emotions"
Artist: N.Prima / Natalia Proskuriakova
Winner the painting "Murano. Emotions of the glass"
1 place
Moscow, Russia 2021
The international exhibition-contest
"Abstractum"
Winner the painting "Cherry mood"
2 place
Moscow, Russia 2021
International exhibition-contest "Animals"
N.Prima
Winner the art work "Pandas" 
1 Place
Moscow, Russia
2021
International exhibition-contest "Figurative-2"
N.Prima / Natalia Proskuriakova
Winner the art work "Sun in the hat" 
Honorable mention
Art Show International
2021
"Art Exhibition-contest
of Contemporary Art "
Winner the painting "Red Hat"
3 place
Limassol, Cyprus 2016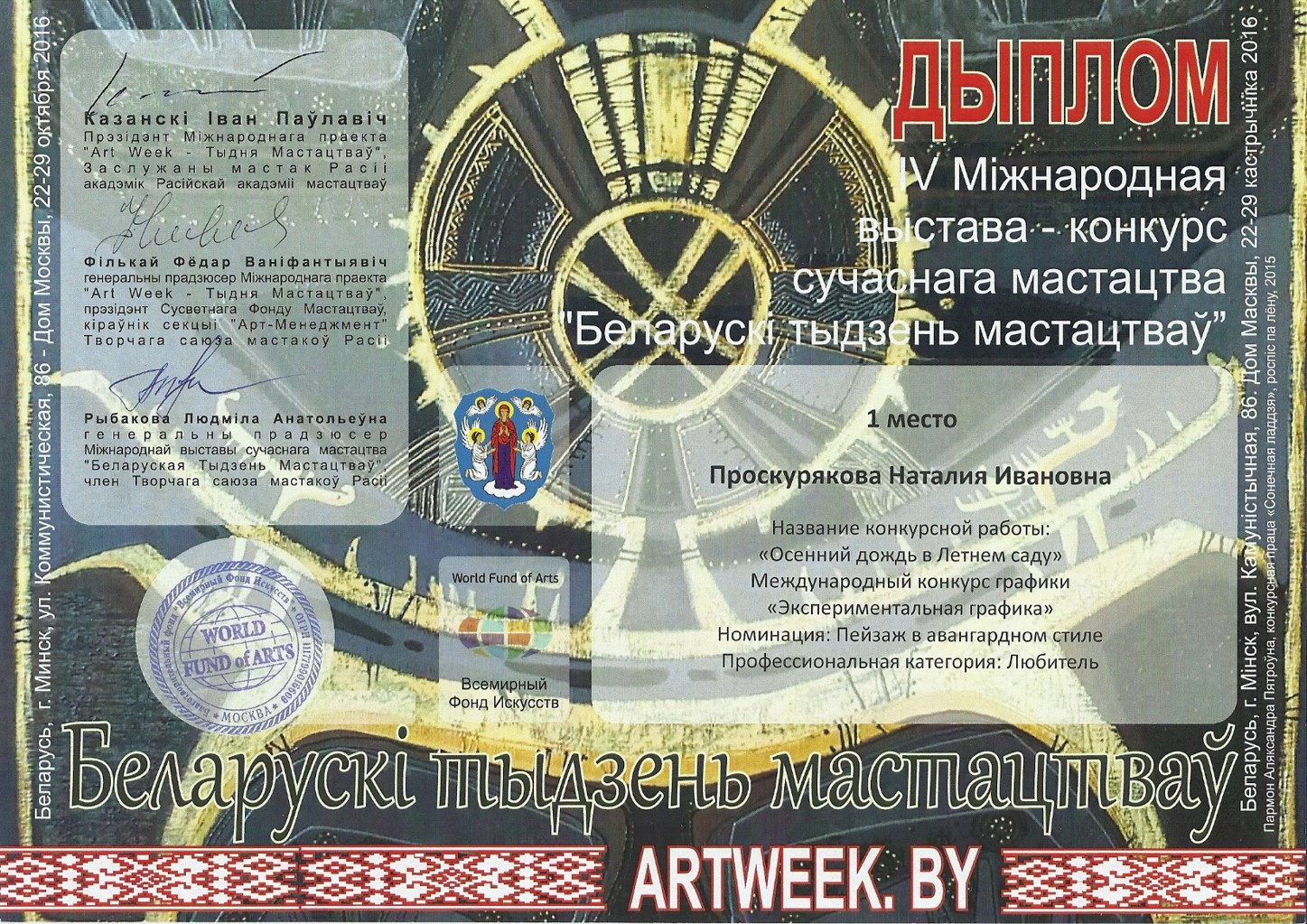 "Art Exhibition-contest
"BELARUS ART WEEK"
Winner the painting "Flamenco"
3 place
Minsk, Belarus 2016
"Art Portrait Club.
International Festival"
Winner the painting "Image of the artist"
1 place
Moscow. Russia 2016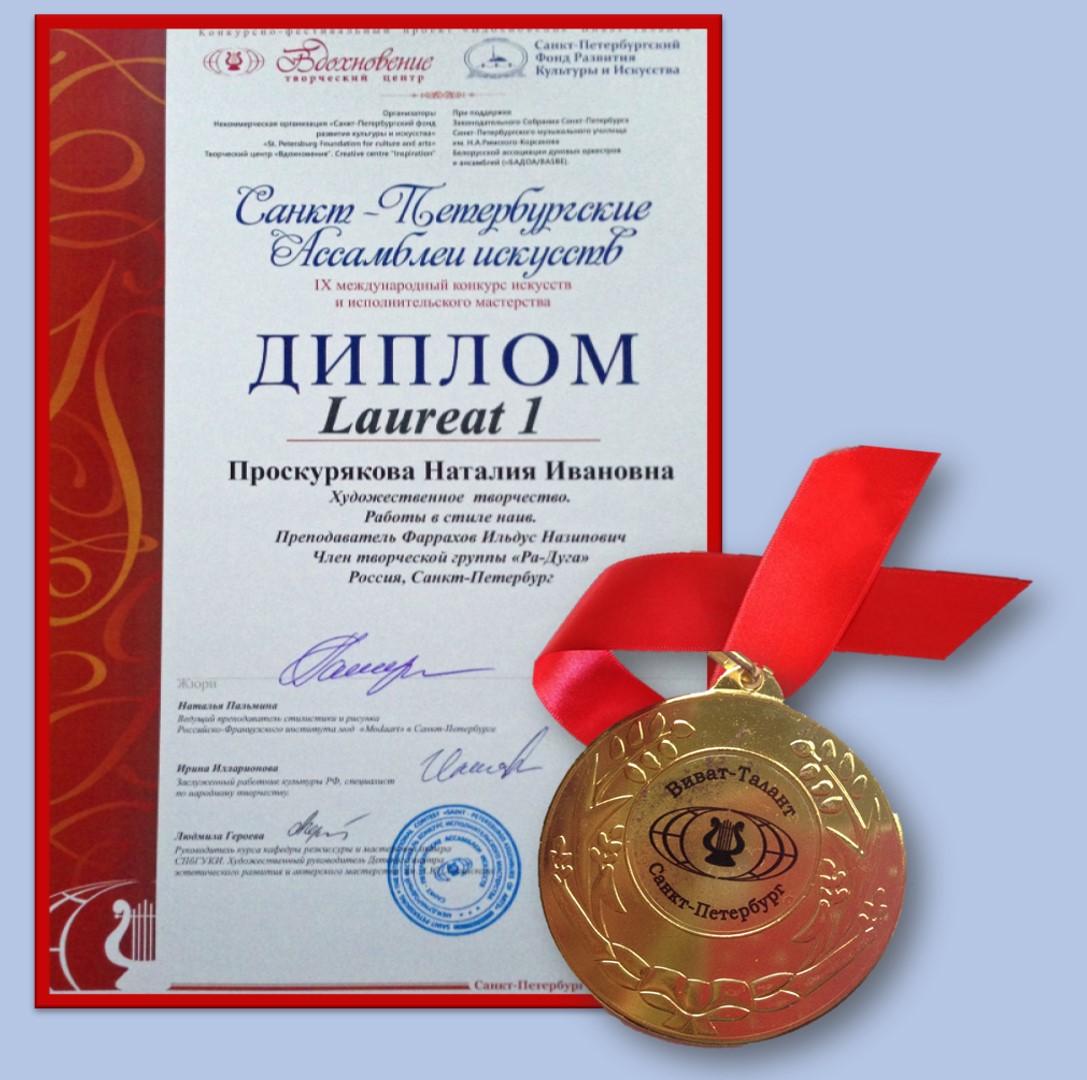 Art Exhibition-contest
"Saint-Petersburg Assembly"
Winners: "Cinderella", "Young torero"
1 place and gold medal
S.Petersburg. Russia 2016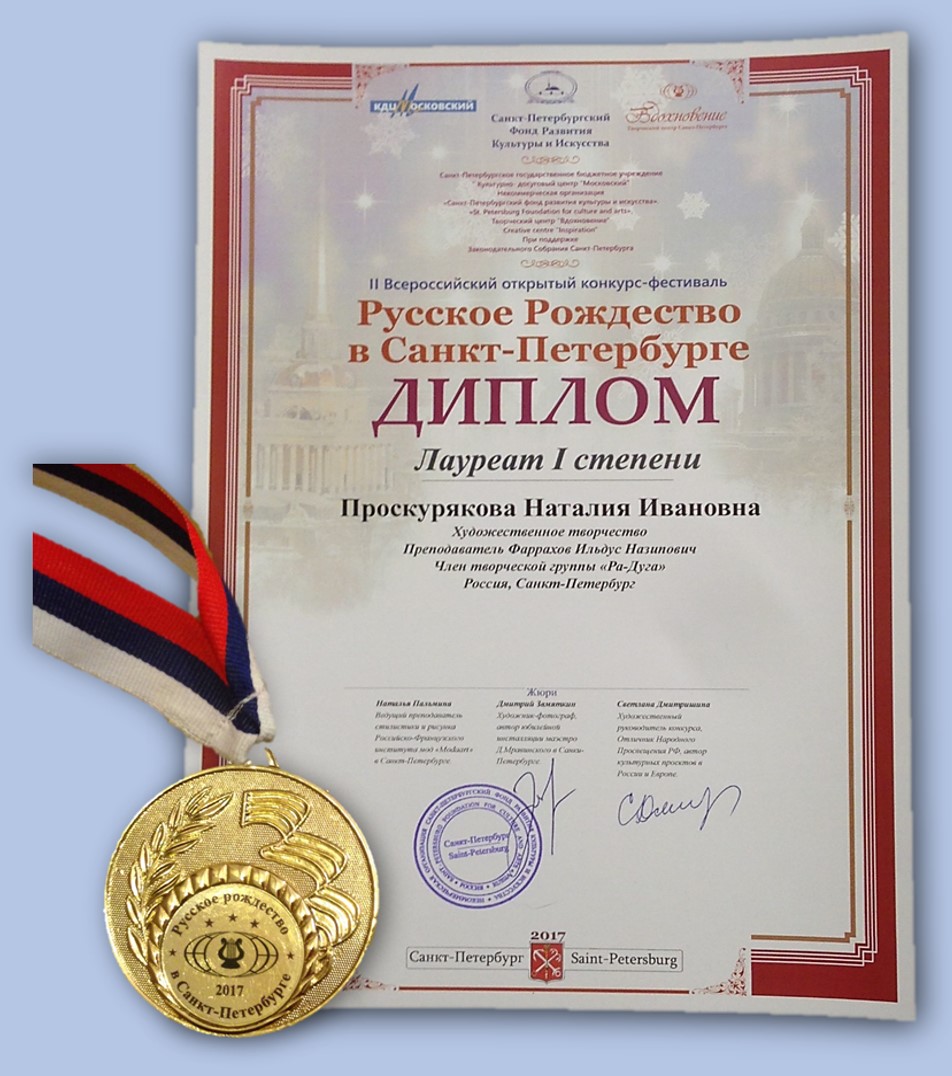 Art Exhibition-contest
"Vivat-talent "
Winners:"Paul on the magic kitchen",
"The presents"
1 place and gold medal
Petersburg, Russia 2017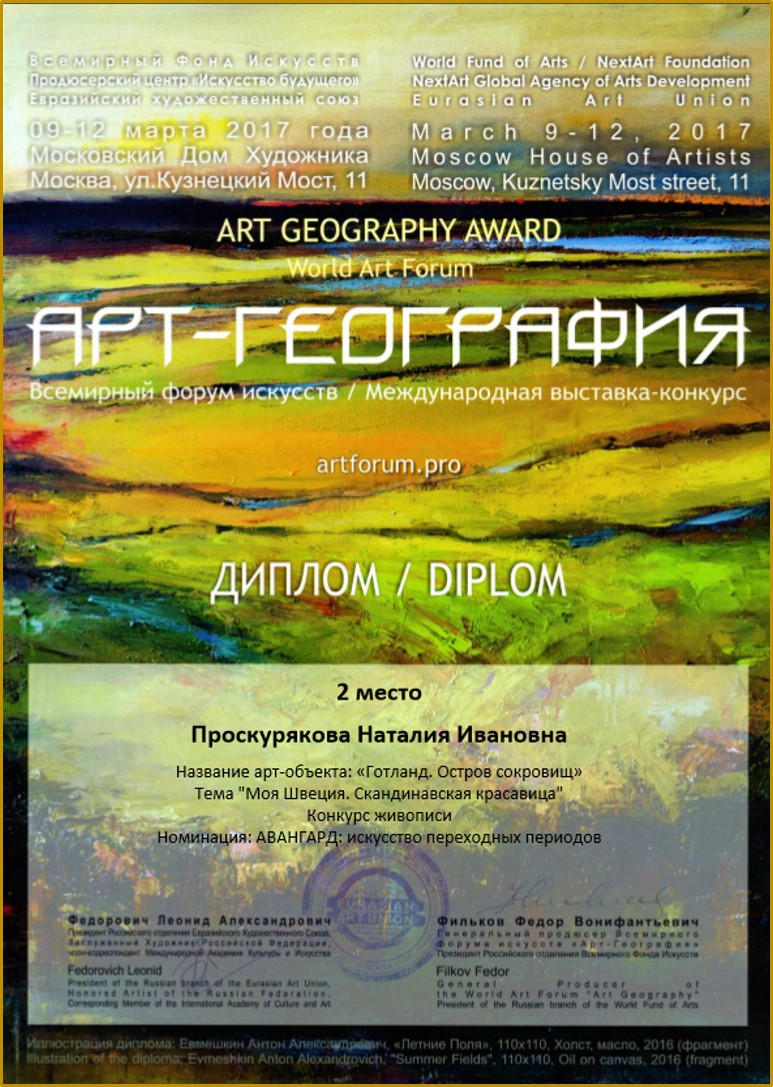 The international exhibition-contest
"Art Geo Award"
Winner the painting
"Gotland. The island of the treasure"
2 place
Moscow, Russia 2017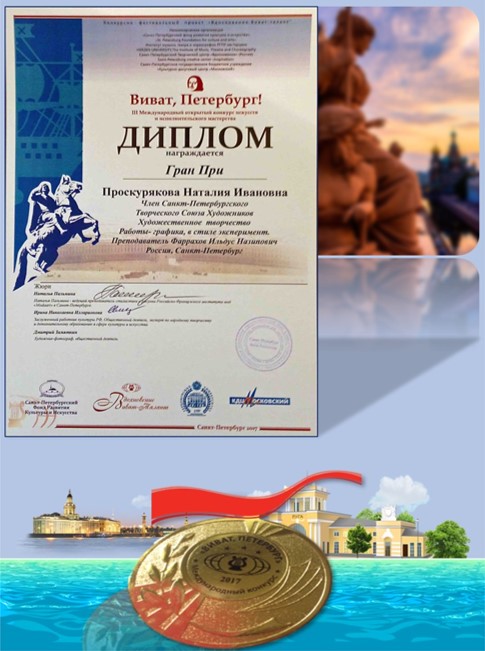 The international art festival
"Vivat Petersburg".
Winners:"Between two dimensions",
"Energy of space"
Grand Prix and gold medal
Saint-Petersburg. Russia 2017
The international exhibition-contest
"Art Geo Award". Art Duet : N.Prima / M. Henriksson
Winner the art object "Burano. The Island woven from lace"
Mixed media painting and computer graphic
2 place
Sardinia, Italy 2017
The international exhibition-contest
"Zoo Arts"
Winner the painting "Berber and his friends"
3 place
Moscow, Russia 2018
The international exhibition-contest
"Vanguard Today"
Art Duet: N.Prima / M. Henriksson
Winner the painting "Ocean"
3 place
Moscow, Russia 2018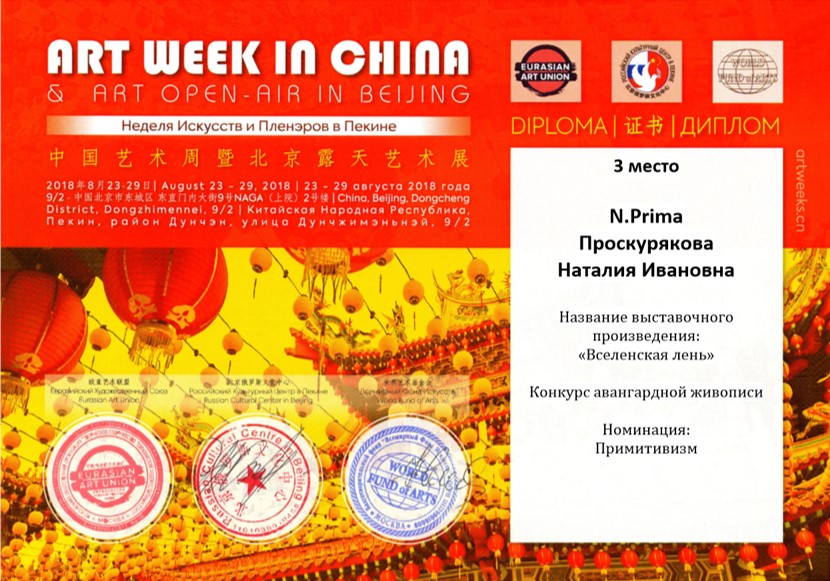 The International "Art Exhibition-contest
of Contemporary Art "
Winner the painting "Panda"
3 place
Beijing, China 2018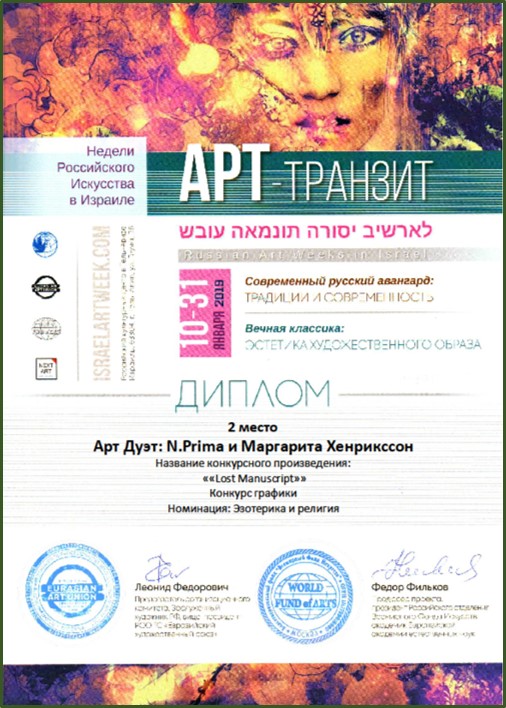 The International Art Exhibition-contest
of Contemporary Art
Art Duet: N.Prima / M. Henriksson
Winner the painting "Lost manuscript"
2 place
Tel Aviv, Israel 2019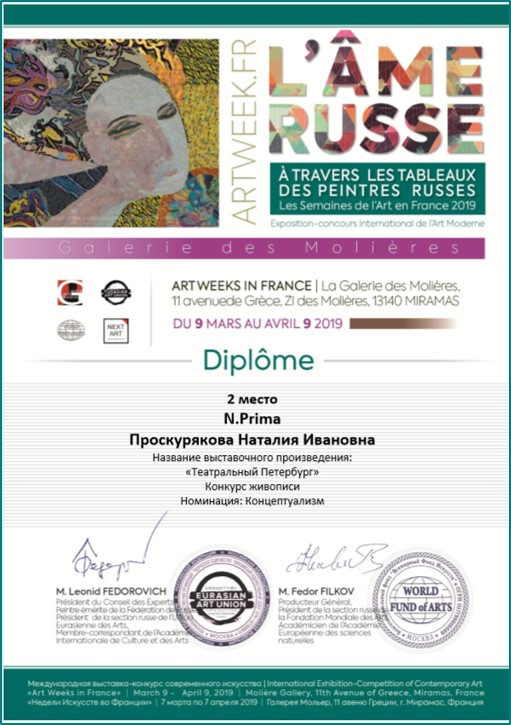 The International Art Exhibition-contest
of Contemporary Art
N.Prima / Natalia Proskuriakova
Winner the painting "Theatrical Peterburg"
2 place
Miramas, France 2019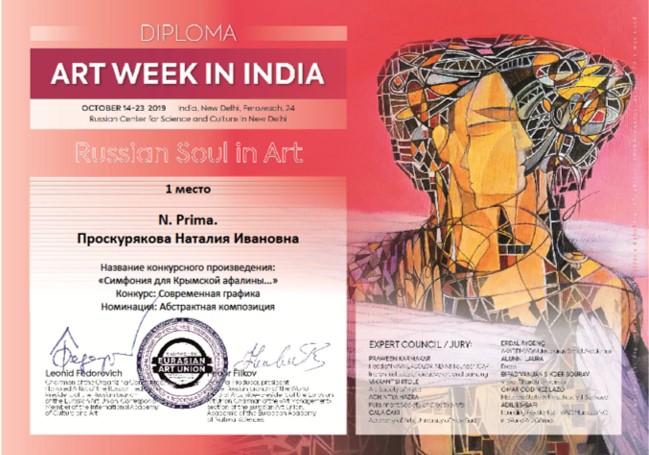 The International Art Exhibition-contest
"Symbolic Art Week in India"
Winner the art work "Dance for the bottlenose dolphin"
1 place
New Delhi, India 2019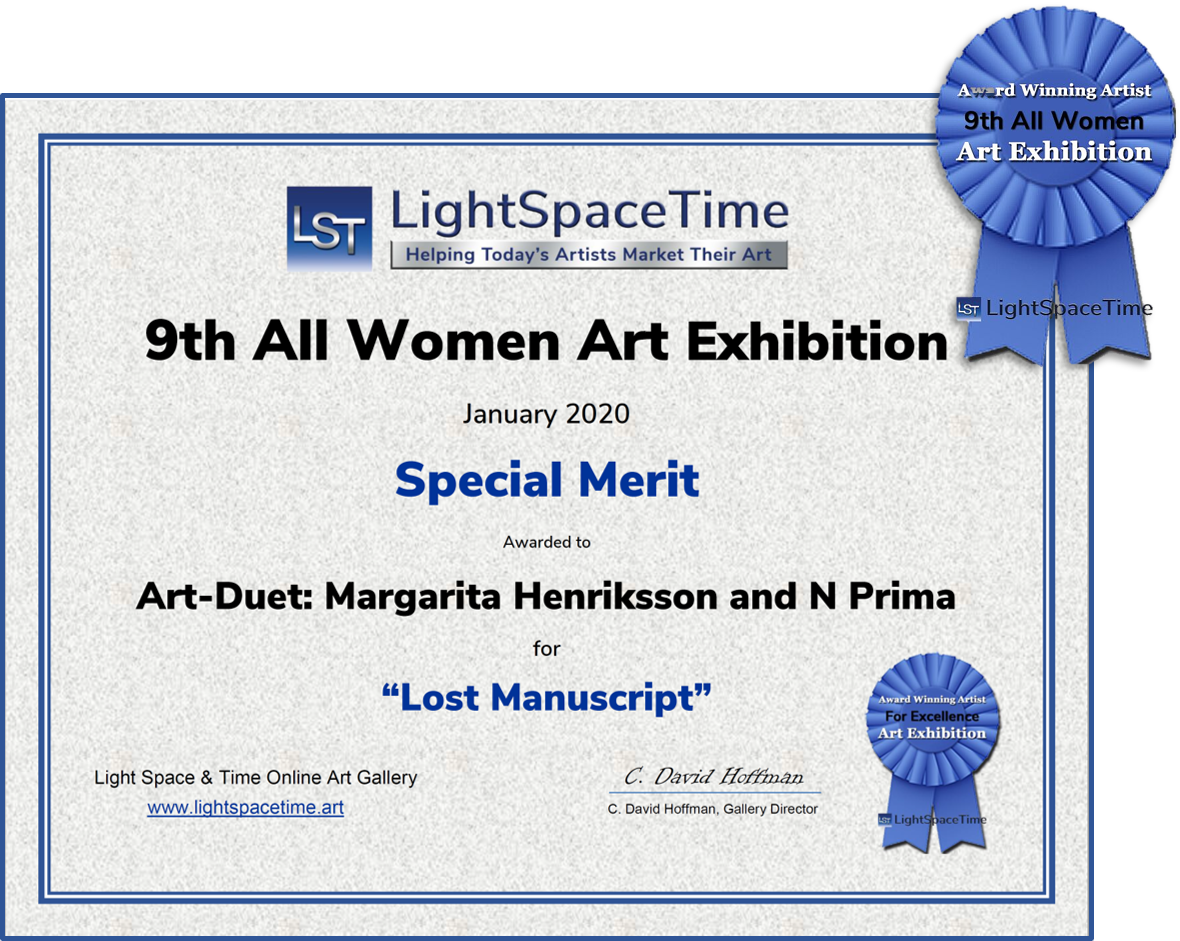 The International Art-contest
9th Annual "All Women exhibition"
Art Duet: M. Henriksson / N.Prima
Winner the art work "Lost Manuscript "
Special MERIT
Light Space Time Gallery
2020
https://www.lightspacetime.art/all-women-art-exhibition-2020-special-merit-photography-digital awards/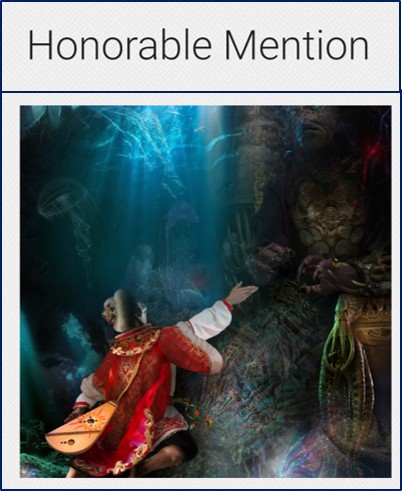 The International Art-contest
Exhibition "RED"
Art Duet: M. Henriksson / N.Prima
Winner the art work "SADKO "
Honorable Mention
Colors of Humanity Art Gallery
2020
https://www.colorsofhumanityartgallery.com/Red-2020/Red-2020-Show/n-fbKQH7
The International Art Exhibition-contest
"Art Week in Czech"
Art Duet: N.Prima / M. Henriksson /
Winner the art work "The Beginning"
1 place
Jihlava/Prague,Czech Republic
2020
Highlight Hollywood
The primer source for hot celebrity news
http://highlighthollywood.com/2020/02/
worlds-best-abstract-digital-artists-
barulins-henriksson-stecker-lavendar
-padiya-hansen-ihashi/
AD-Art / Artist in the world events
42 Online competition for artists
Art Duet: M. Henriksson / N.Prima
Winner the art work "SADKO"
MERIT
Italy, 2020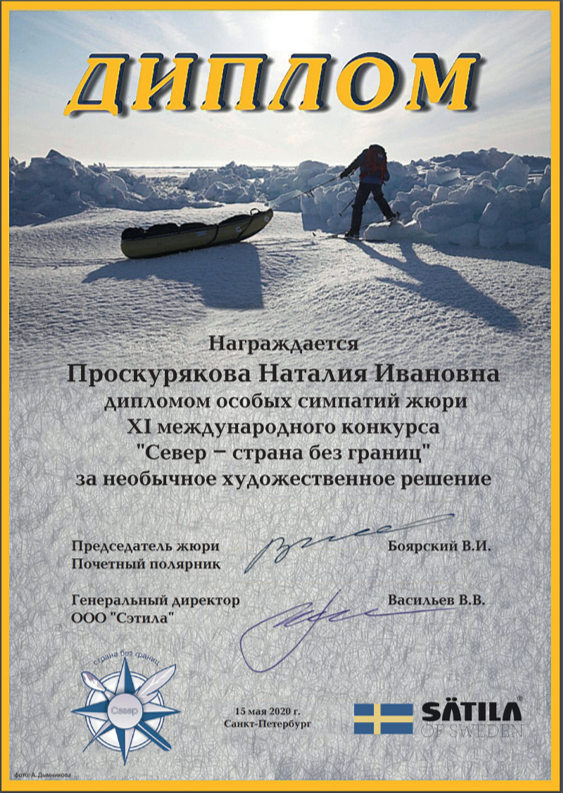 21th International contest
"North – Country without borders"
N.Prima / Natalia Proskuriakova/
Winner the art work "Antarctic conquest"
For mostly original art work
Company Sätila and Russian Geography Society
2020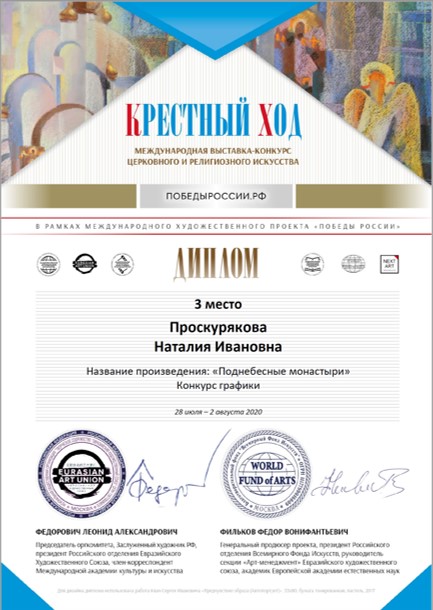 The International Art Exhibition-contest
"Russian Victories"
N.Prima
Winner the art work "Meteora"
3 Place
Saint-Petersburg, Russia
2020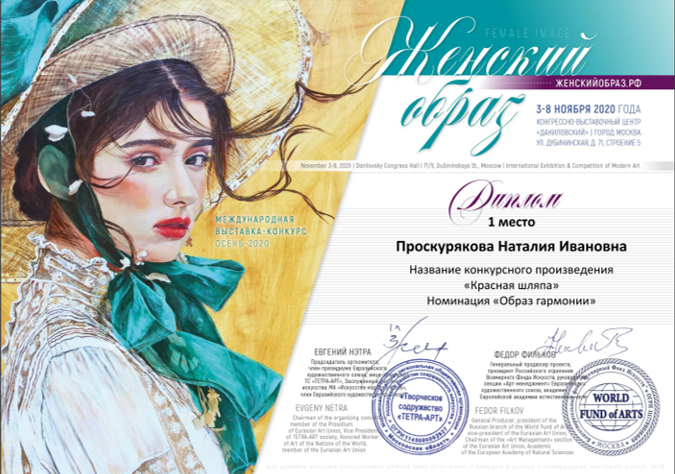 International exhibition-contest "WOMAN`S IMAGE"
N.Prima
Winner the art work "RED HAT" 
1 Place
Moscow, Russia
2020
The International Art-contest
"I Love…"
Artist: N.Prima
Art work "I love Venice "
Finalist
On-line Gallery Ring
2020
The international exhibition-contest
"Talent of Russia"
Art Duet: M. Henriksson / N.Prima
Winner the painting " Antarctic conquest"
3 place
Moscow, Russia 2021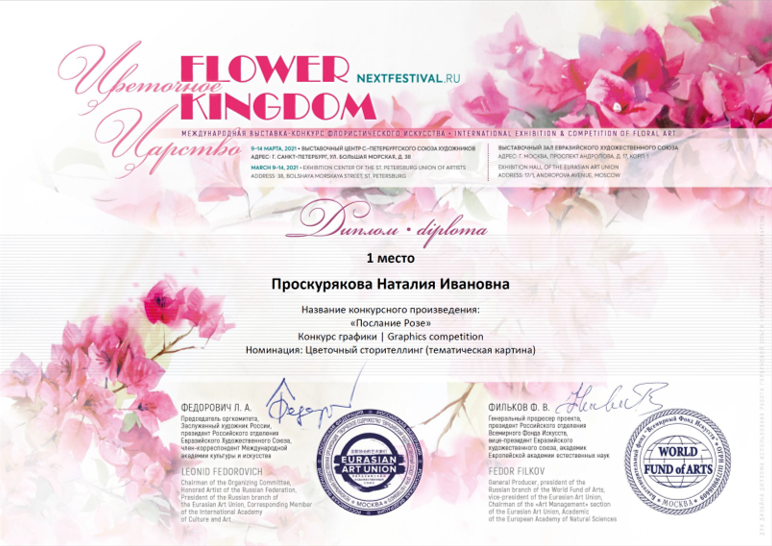 International exhibition-contest "Flower kingdom"
N.Prima
Winner the art work "Message for ROSE" 
1 Place
Saint-Petersburg, Russia
2021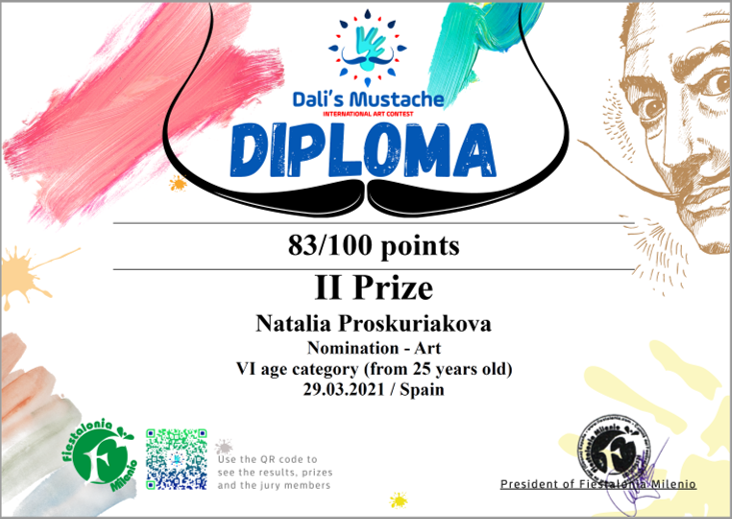 International exhibition-contest "Fiestalonia. Dali's Mustache"
Natalia Proskuriakova /N.Prima/
Winner the art work "Theatrical Petersburg" 
2 Place
Spain
2021
The International Art Exhibition-contest
"He & She"
N.Prima /Proskuriakova Natalia/
Winner the art work "Feelings of mannequins"
1 Place
Moscow, Russia
2021
International exhibition-contest "Color"
N.Prima / Natalia Proskuriakova
Winner the art work "Illusions of dream" 
Honorable mention
Art Show International
2021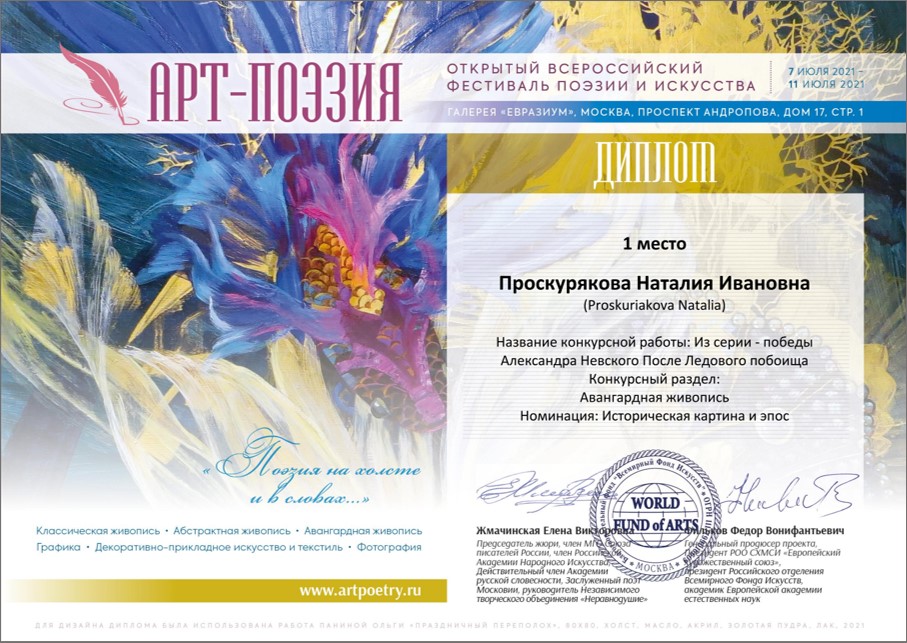 Festival-contest "Art – Poetry"
Natalia Proskuriakova
Winner the art work "Alexander Nevsky. After the battle" 
1 Place
Moscow, Russia
2021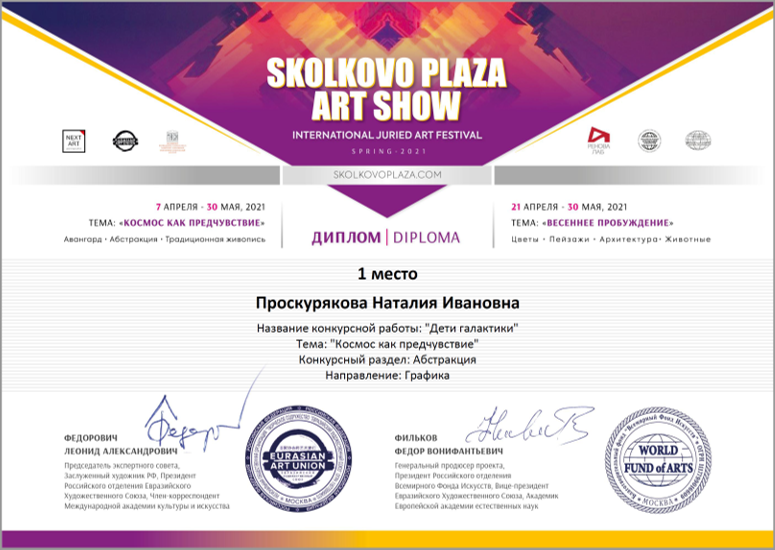 Participant in the international exhibition-contest
"COSMOS" in the Skolkovo Plaza
Artist: N.Prima / Natalia Proskuriakova
Winner the painting "Children of the Galactic"
1 place
Moscow, Russia 2021
International exhibition-contest "Animals"
N.Prima
Winner the art work "Match on the ice" 
2 Place
Moscow, Russia
2021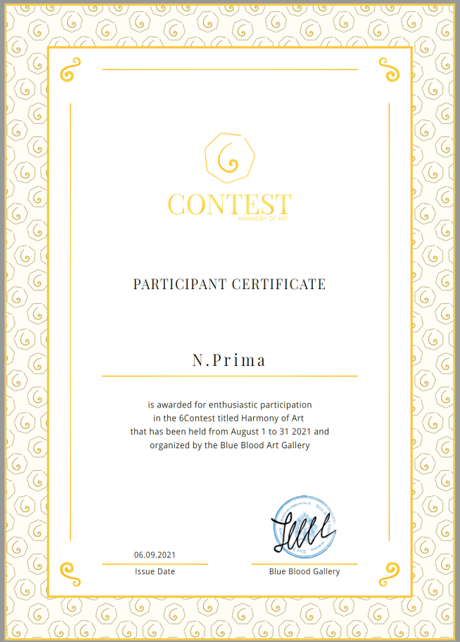 The International Art-contest
"Contest Harmony of art"
Artist: N.Prima
Participant certificate
Blue Blood Gallerie
Prague, Czech Republic
2021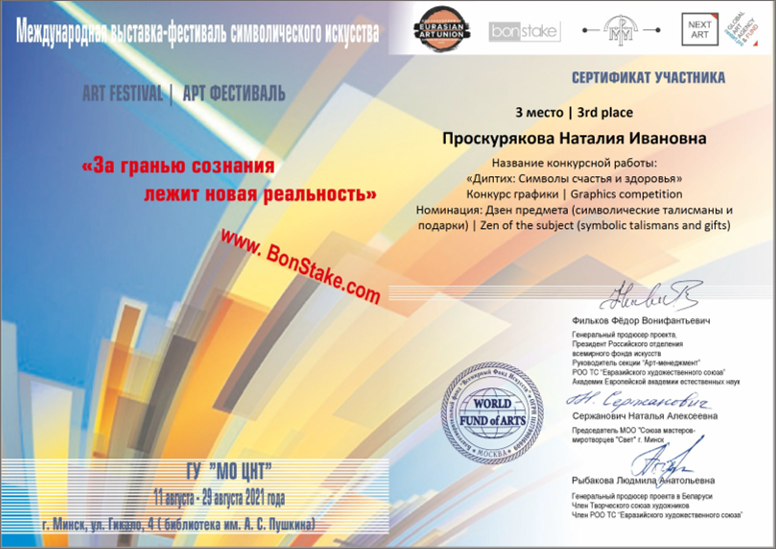 The International Art Exhibition-contest
"Zen Art"
Winner the art work "Symbols of heals and happiness"
3 place
Minsk, Belarus 2021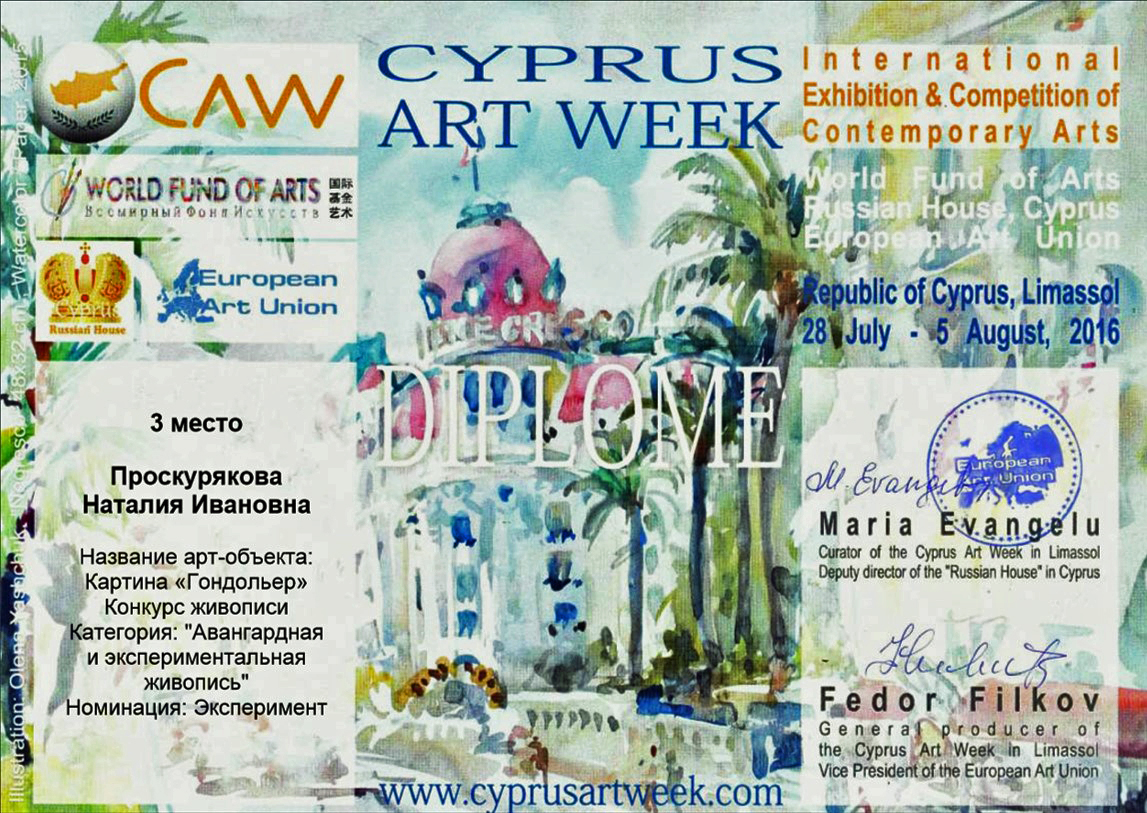 "Art Exhibition-contest
of Contemporary Art "
Winner the painting "Gondolier"
3 place
Limassol, Cyprus 2016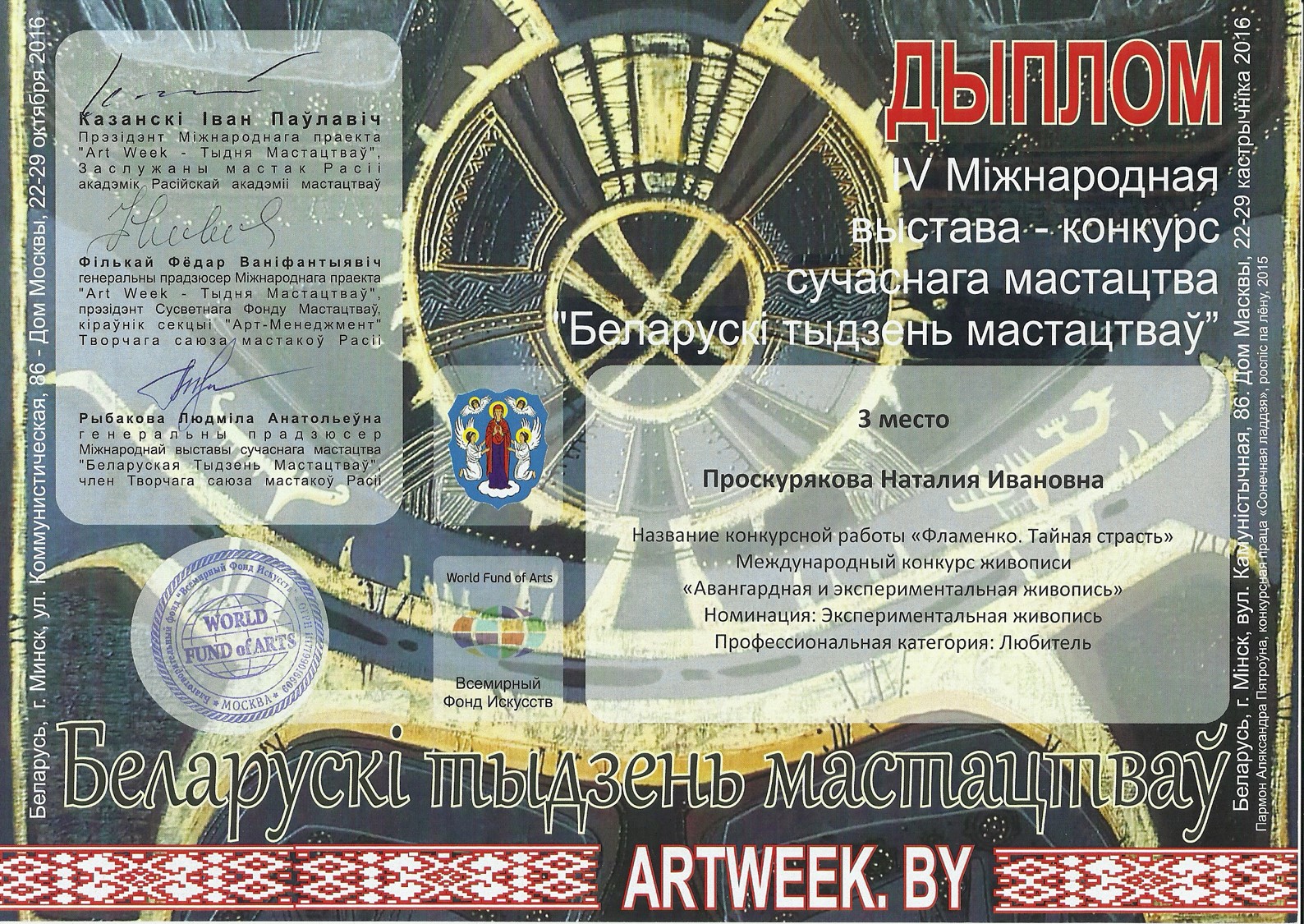 "Art Exhibition-contest
"BELARUS ART WEEK"
Winner the painting "Apples and watches"
1 place
Minsk, Belarus 2016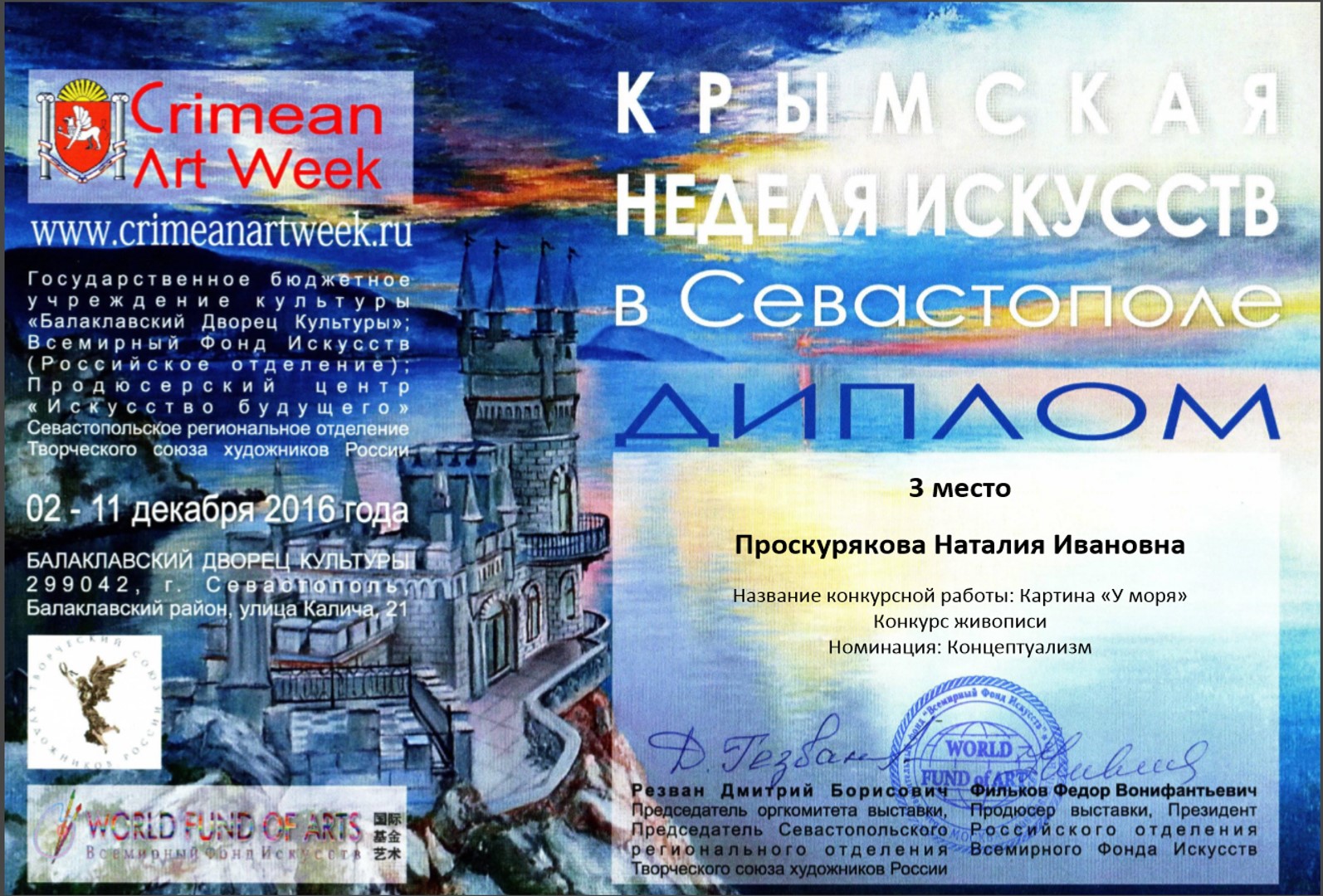 Art Exhibition-contest
"Crimian Art Week"
Winner the painting "By the sea"
3 place
Crimea. Russia 2016
"Art Exhibition-contest
of Contemporary Art "
Winner the painting "Dubai. Remix"
2 place
Limassol, Cyprus 2016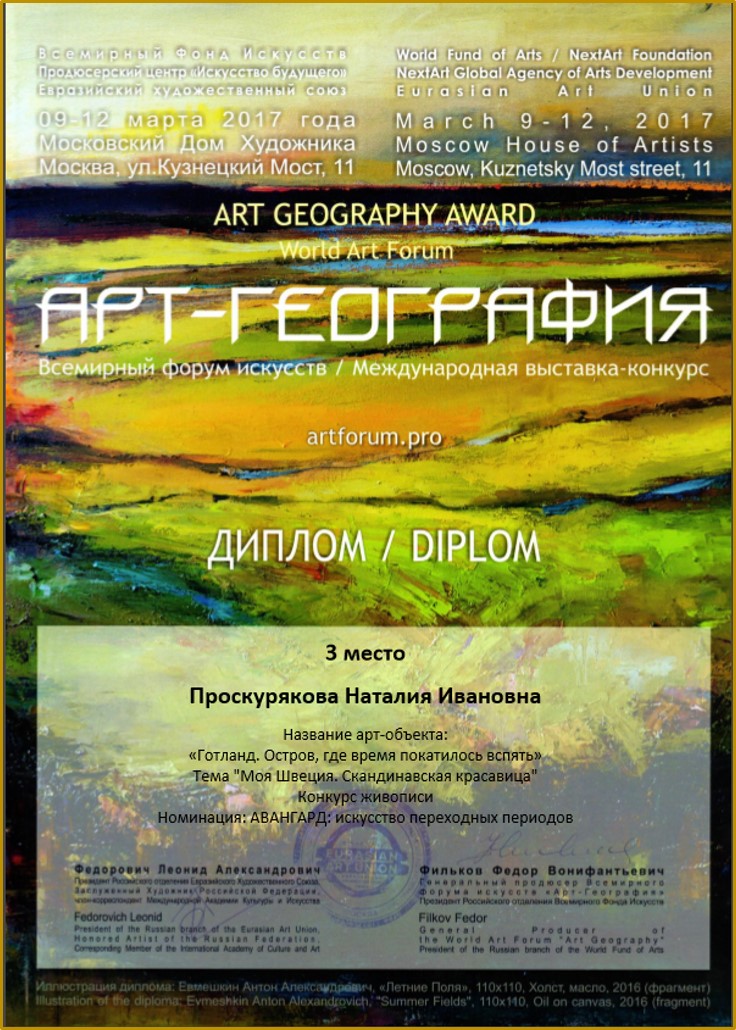 The international exhibition-contest
"Art Geo Award"
Winner the painting
"Gotland. Island where time rolled back"
3 place
Moscow, Russia 2017
"Art Exhibition-contest
of Contemporary Art "
Winner the painting "Between two dimensions"
3 place
Beijing, China 2017
The international exhibition-contest
"Art Water"
Winner the painting "Geometry of water"
1 place
Moscow, Russia 2017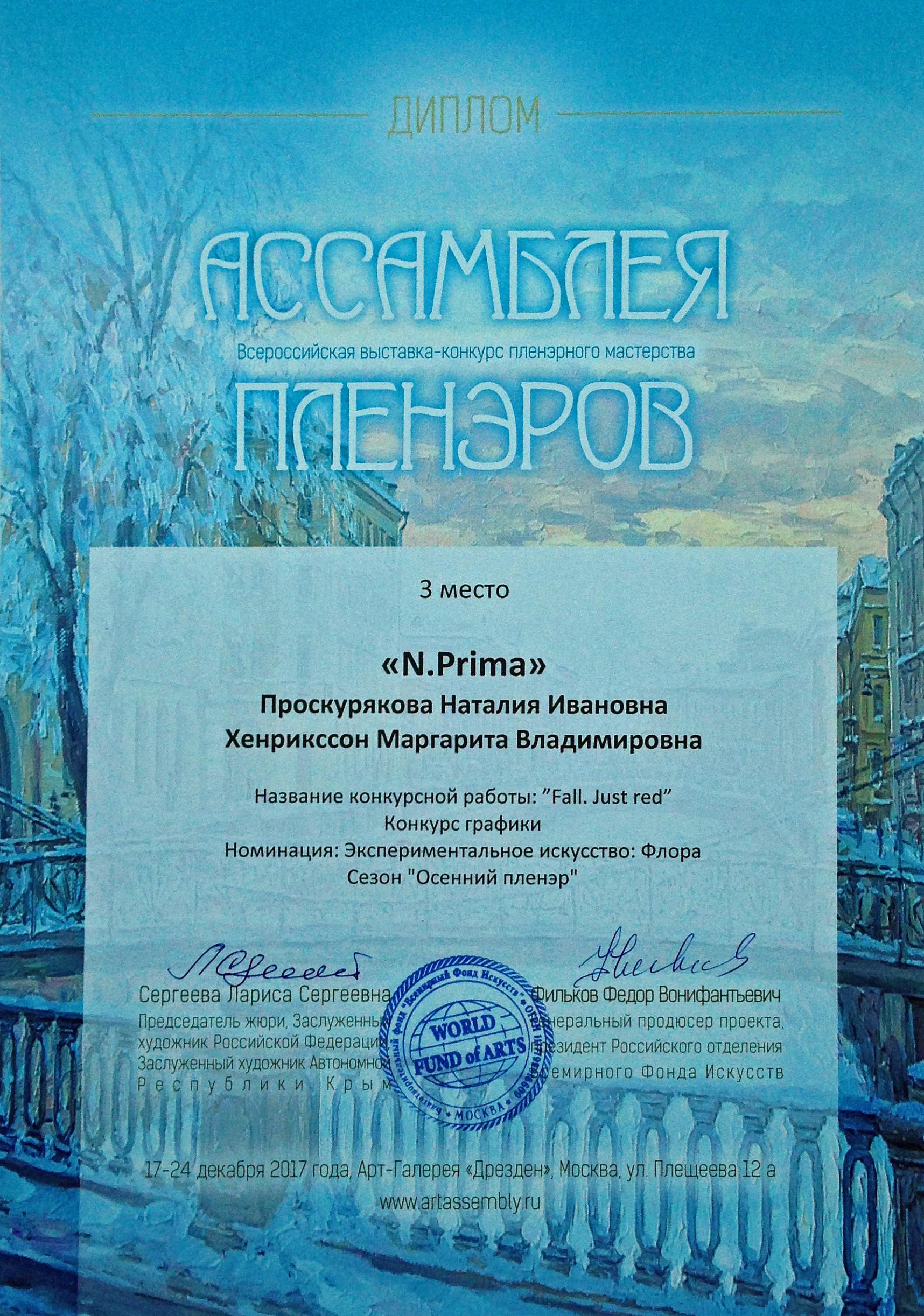 The international exhibition-contest
"Plain Air Assembly"
Art Duet: N.Prima/ M. Henriksson
Winner the painting "Just Red"
3 place
Moscow, Russia 2017
The international exhibition-contest
"Festival of the Abstract Arts"
Winner the painting «Reappearance»
3 place
Moscow, Russia 2018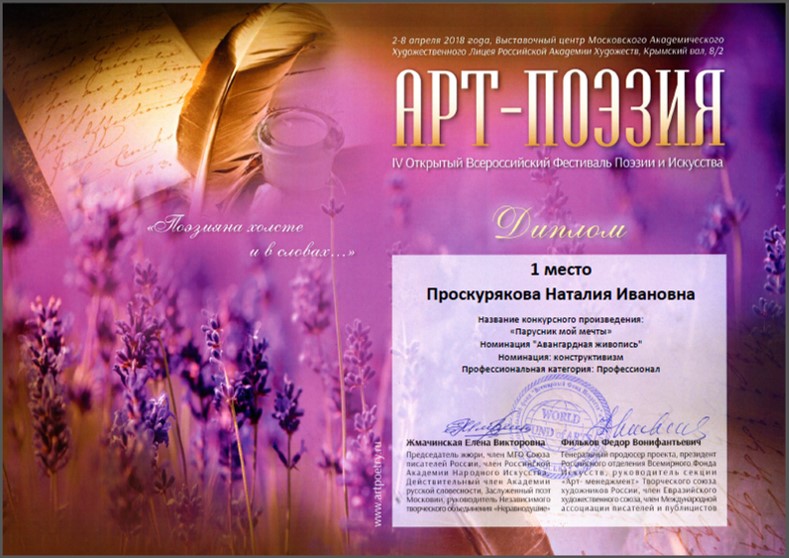 The international exhibition-contest
"Art Poetry"
Winner the painting «The Salling ship of my dream»
1 place
Moscow, Russia 2018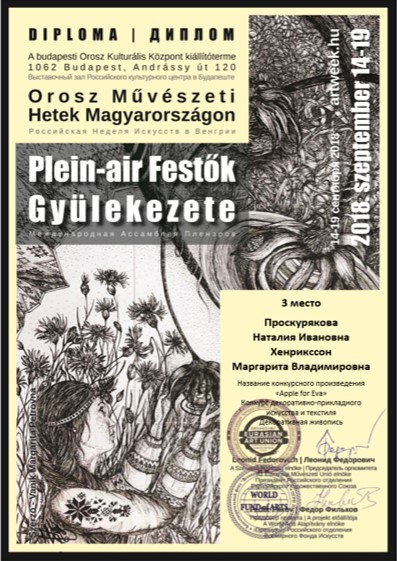 The International "Art Exhibition-contest
of Contemporary Art "
Art Duet: N.Prima / M. Henriksson
Winner the painting "Apple for Eva"
3 place
Budapest, Hungary 2018
The International Art Exhibition-contest
of Contemporary Art
Art Duet: N.Prima / M. Henriksson
Winner the painting "Legends of Hellas"
2 place
Thessaloniki. Greece 2019
The International Art Exhibition-contest
"Art Poetry"
Winner the painting "When in my arms"
2 place
Tel Aviv, Israel 2019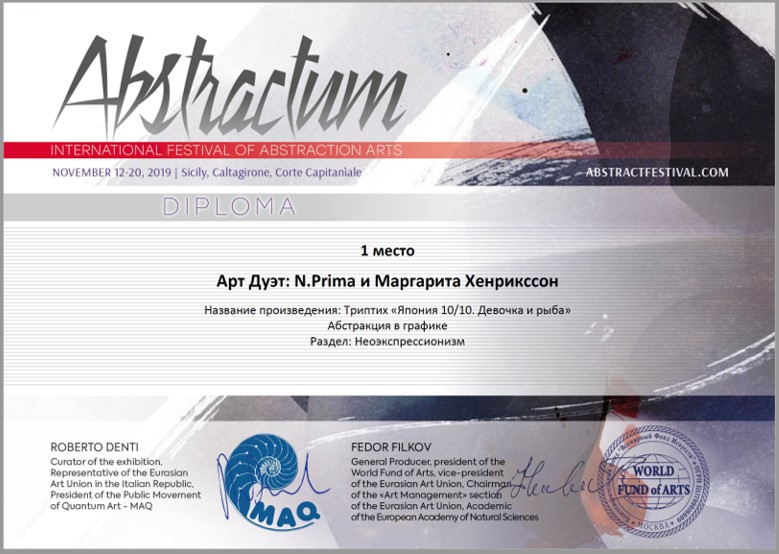 The International Art Exhibition-contest
"Abstractum"
Art Duet: M. Henriksson / N.Prima
Winner the art work "Japan 10/10. Girl and fish"
1 place
Caltagirone, Italy 2019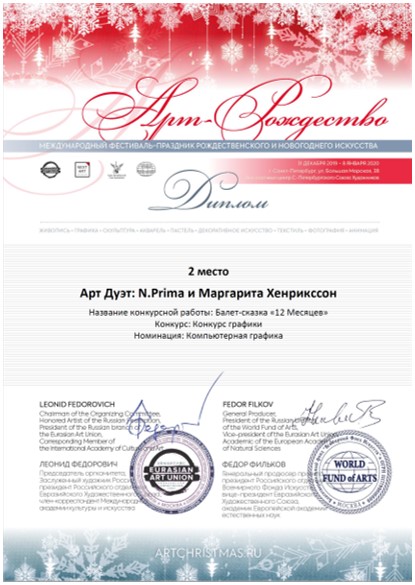 The International Art Exhibition-contest
"Art Christmas"
Art Duet: M. Henriksson / N.Prima
Winner the art work "12 Month. Ballet-fairy"
2 place
Saint-Petersburg, Russia
2019 – 2020
The International Art Exhibition-contest
"Art Week in Austria"
Art Duet: M. Henriksson / N.Prima
Winner the art work "SADKO"
1 place
Vienna, Austria
2020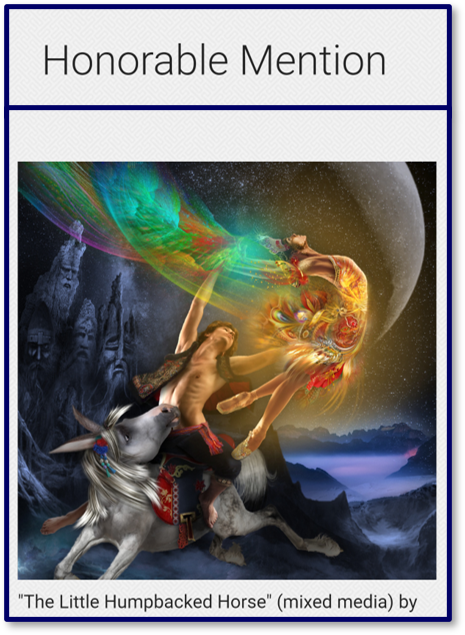 he International Art-contest
Exhibition "YELLOW"
Art Duet: M. Henriksson / N.Prima
Winner the art work "The Little Humpbacked Horse"
Honorable Mention
Colors of Humanity Art Gallery
2020
https://www.colorsofhumanityartgallery.com/Yellow-2020/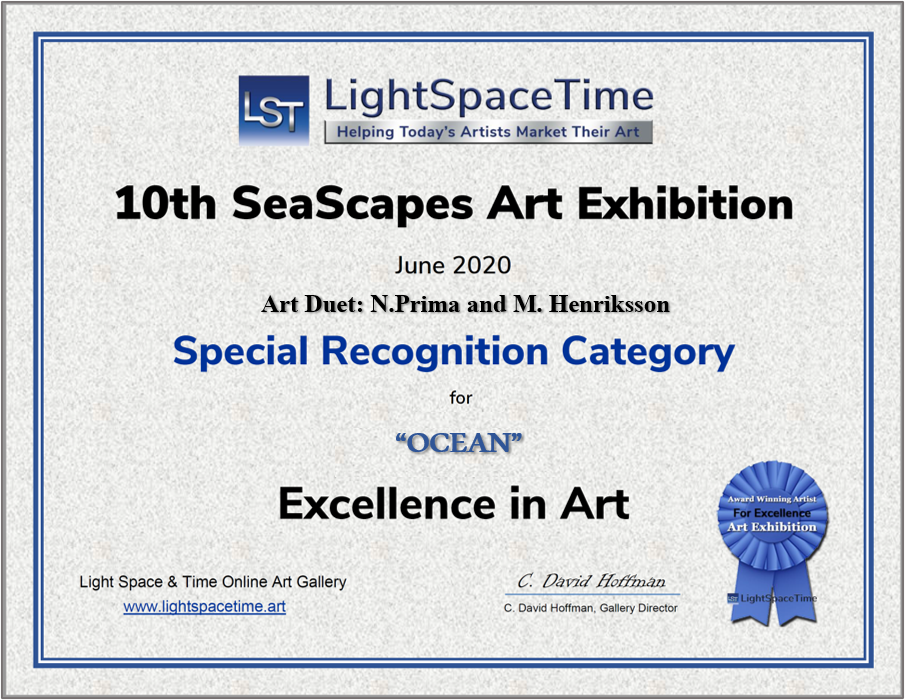 The International Art-contest
10th Annual "SeaScapes"
Art Duet: M. Henriksson / N.Prima
Winner the art work "Ocean"
Special Recognition
Light Space Time Gallery
2020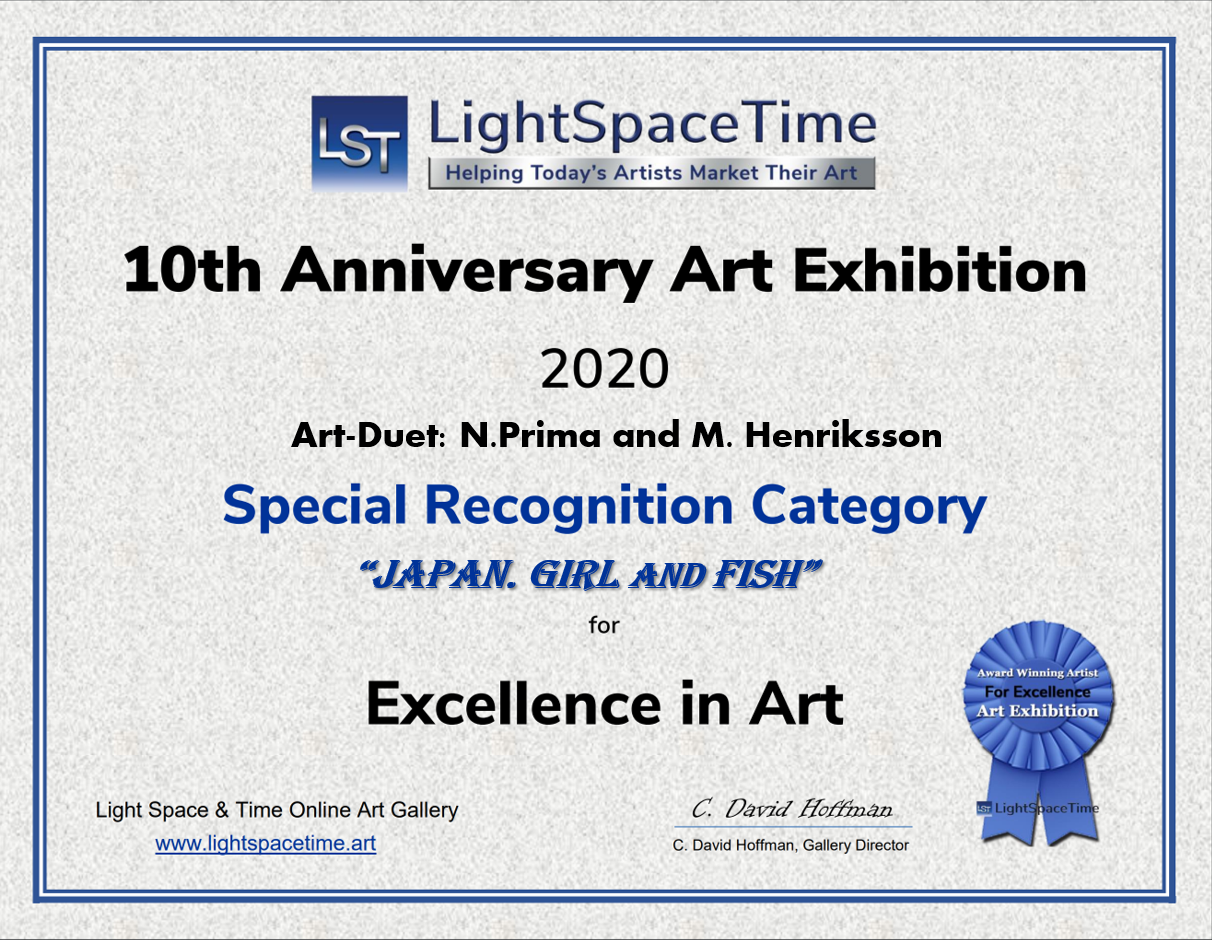 The International Art-contest
"10th Anniversary"
Art Duet: M. Henriksson / N.Prima
Winner the art work "Japan. Girl and fish"
Special Recognition
Light Space Time Gallery
2020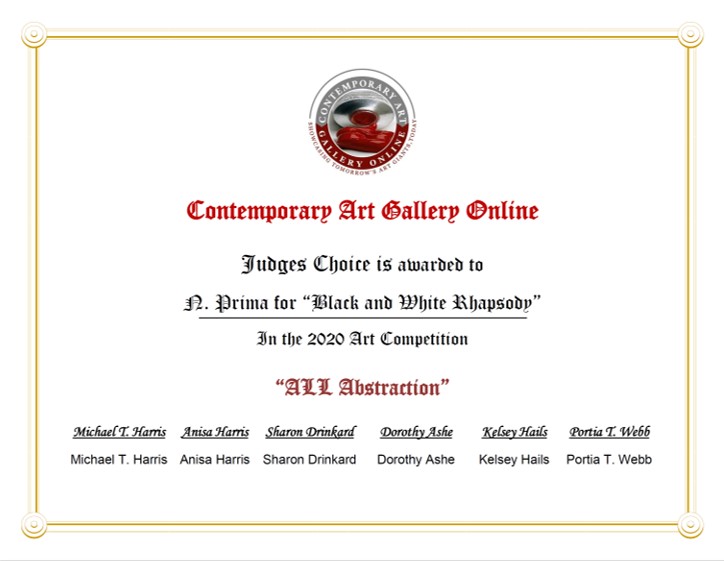 The International Art-contest
"All Abstraction"
Winner the art work "Black and White Rhapsody"
Judges choice
Online Contemporary Art Gallery. USA
2020
www.contemporaryartgalleryonline.gallery/2020–all-abstraction-winners
The International Art Exhibition-contest
"ZOO ART"
N.Prima
Winner the art work "Gaze from the abyss"
1 Place
Saint-Petersburg, Russia
2020
The International Art Contest
American Art Awards
N.Prima / Natalia Proskuriakova
Winner the painting "Dance for the bottlenose dolphin"
3 place
USA 2020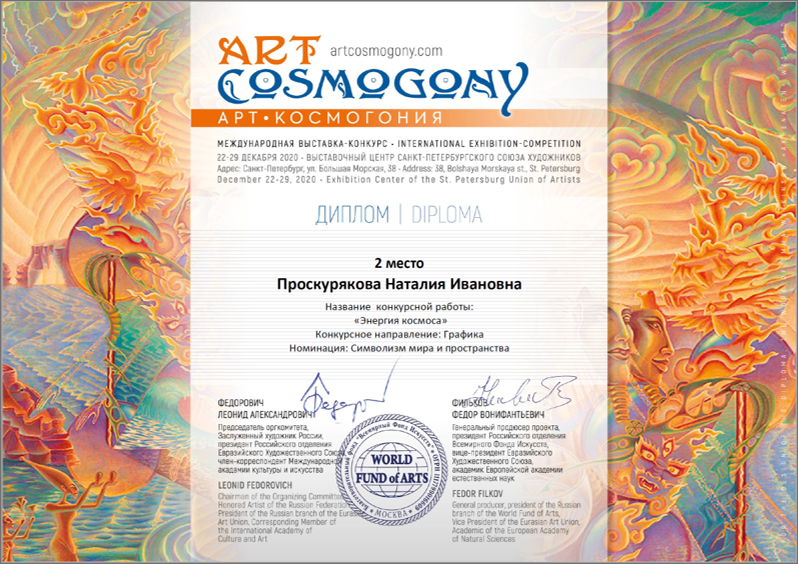 The International Art Exhibition-contest
"Art Cosmogony"
Artist: N.Prima
Winner the art work "Space energy""
2 place
Saint-Petersburg, Russia
2020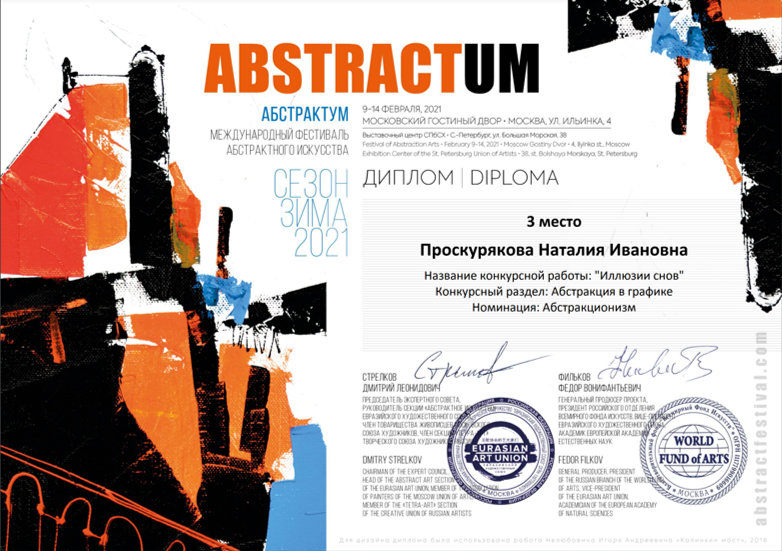 The international exhibition-contest
"Abstractum"
Artist: N.Prima
Winner the painting "Illusions of dream"
3 place
Moscow, Russia 2021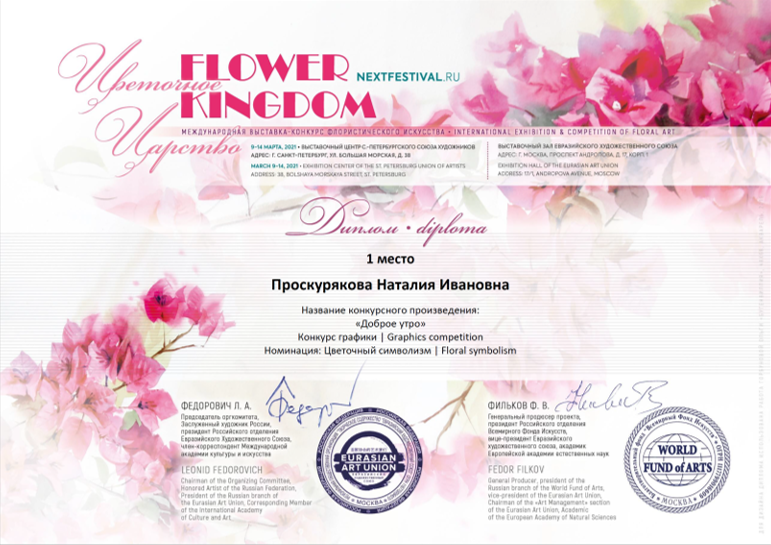 International exhibition-contest "Flower kingdom"
N.Prima
Winner the art work "Good morning" 
1 Place
Saint-Petersburg, Russia
2021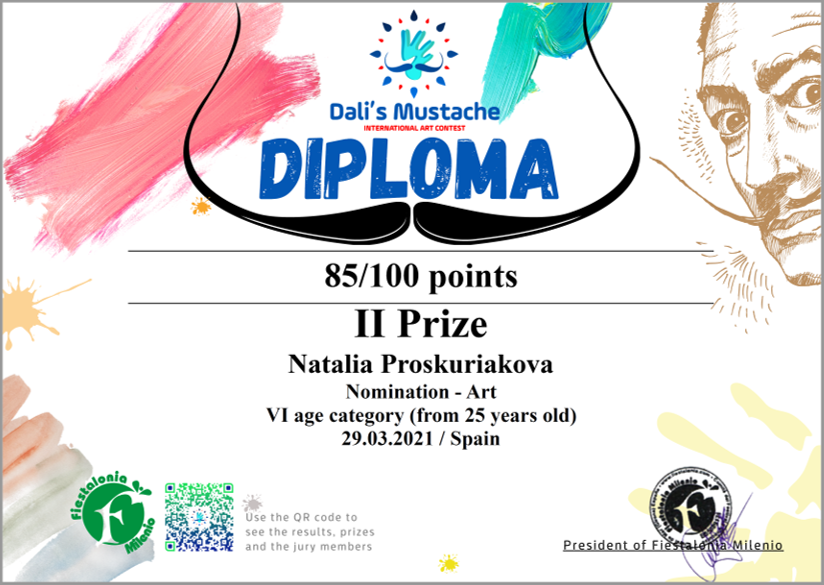 International exhibition-contest "Fiestalonia. Dali's Mustache"
Natalia Proskuriakova /N.Prima/
Winner the art work "Mannequins" 
2 Place
Spain
2021
The international exhibition-contest "ART Excellence Award"
Artists: Art Duet – N.Prima/ Margarita Henriksson
Winner the art work "Apple for Eva"
Bronze medal
Moscow, Russia
2020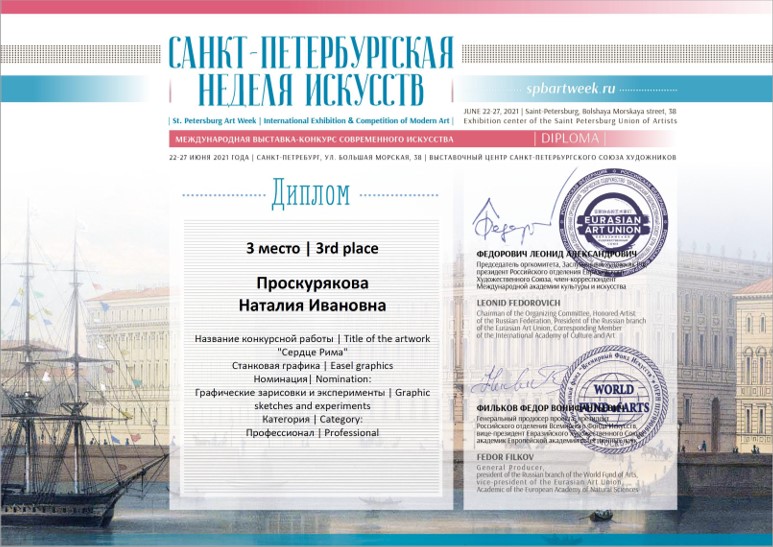 The International Art Exhibition-contest
of Contemporary Art "Art WEEK"
Artist: N.Prima / Natalia Proskuriakova
Winner the painting "Illusions of dream"
3 place
Saint-Petersburg, Russia 2021
The International Art-contest
"All Abstraction"
Winner the art work "Spices lime"
5 place
Online Contemporary Art Gallery. USA
2021
The International Art-contest "Open"
Artist: N.Prima
Winner the art work "Spicy lime "
Excellence in Art
Light Space Time Gallery
2021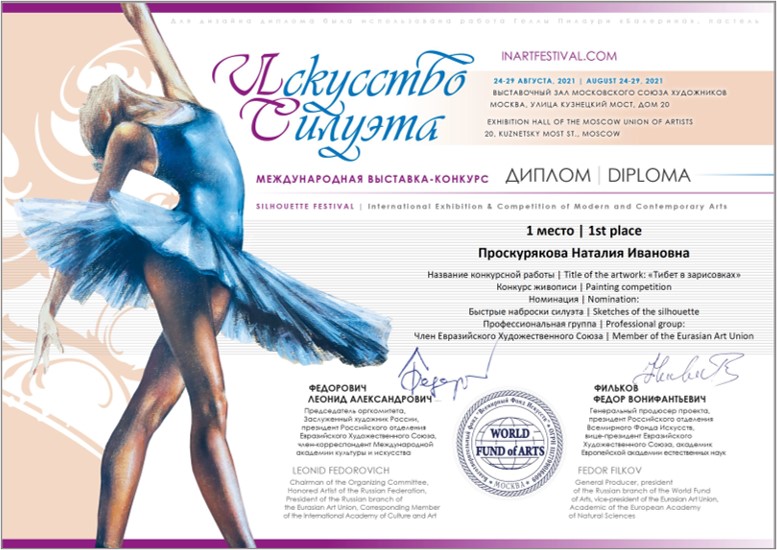 International exhibition-contest "Silhouette Festival"
N.Prima/ Proskuriakova Natalia
Winner the art work "Tibet" 
1 Place
Moscow, Russia
2021
International exhibition-contest "Figurative-2"
N.Prima / Natalia Proskuriakova
Winner the art work "Spices lime" 
Honorable mention
Art Show International
2021